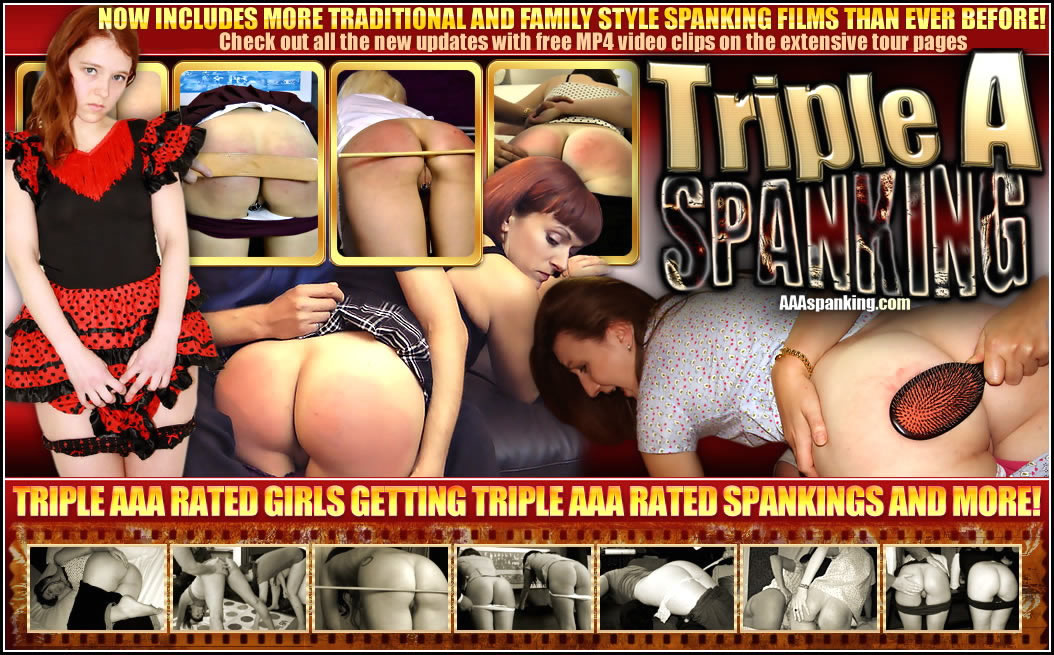 Audrey has disgraced herself on a school trip and is waiting nervously for her father in the hotel room, all packed for the 4 hour car journey home. Her Daddy is furious that he has been summoned to pick her up as soon as possible. As she fidgets and sits anxiously, she hears the door open and she feels real shame knowing what will happen next before the long trip home. She could see he was brandishing the small leather strap in his hand, the one that she really hated! He had brought it especially for her. Daddy is so angry that he doesn't remonstrate with his daughter, this was already too painful to discuss now, but instead, as he scolded her, she knew that she would be riding home very uncomfortably. Her fears were real, as he told her she'd get a very humiliating spanking over his lap like a naughty little girl with the promise of that awful strap to come! This quick punishment scene has Audrey (looking adorable in her authentic school uniform) getting spanked with her regulation panties pulled half way down her legs as she cries out and struggles. Daddy's hard hand reddens her round bare cheeks before she is placed on the bench, on all fours. Her bare bottom is exposed, high in the air, for the leather strapping. Only until her cheeks start to glow with swat after embarrassing swat does he relent and decide that she has had enough. She is left in the room to reflect on what has happened and compose herself before she is due outside in 10 minutes. The car journey home will be a painful reminder not to embarrass herself, her family and the school.
This is a very special showcase starring one of the fetish world's beautiful stars, Angela Sommers. Spanking her throughout this 24 minute sensual and erotic video is "Female Spanker of the Year 2016" (third year running), Sarah Gregory. She knows exactly how to push Angela's buttons and take her to her limits with a wide range from sensual and erotic to relentless bottom burning. Sarah keeps Angela guessing how each stroke or swat will play out in three wonderful positions. The film is divided into three distinct parts: The first covers the OTK spanking and a fantastic warm up. There is no dialogue or story, we just witness the spanking of a beautiful young lady in very sexy lingerie getting spanked by an equally alluring female spanker! In Part Two, Angela assumes the Wheelbarrow Position, sprawled out on the bed. Her bare bottom and pussy are fully exposed, our camera angles capture all the action in detail including Angela's wonderful facial expressions. The final scene sees Angela spread on All Fours, as she is given various leather implements. This includes a sensual cropping, leather paddling & a stinging slippering. All parts come with bonus footage & slower motion captures making this a visual treat - a "Must See" for lovers of beautiful female spanking erotica.
Ten promised to get the suite ready for a spanking party that she was co-hosting but all the essentials like liquid refreshments, beverages, snacks and tidying for a large gathering hadn't been done and the first partygoers were due soon! John was really unimpressed and Ten had no excuses but bratted him anyway! She had also been playing way too hard and up until the wee hours which he hadn't failed to notice. John wasn't putting up with ten's precocious behavior and was just going to spank her and help her get the place ready but she pushed many of the implements resting on the counter to the floor and he told her that everything she had pushed off the counter would be used on her bare bottom. Poor Ten's choice meant all the nastiest heaviest and most stinging leather straps got picked up and used including his AAA Canadian Prison & 3 Tailed Straps! The countertop was used to humiliate Ten further with an "on all fours" position, panties down whilst she got strapped relentlessly and then the final stinging swats were given with her clutching the side of the counter, bottom stuck right out, as the meanest straps reddened her bottom a beautiful color just in time for the first guests to admire!
This is a severe punishment involving a bathbrush and heavy wooden "Chief" paddle of cheerleader, Melody Nore. Melody believes that she can cheat a rival squad coach and make him pay for insider information. Only when it comes to her "Payoff", it doesn't go to plan. This is a short sharp, shock style film, with very little build up dialogue but an awful lot of spanking punishment action. Melody is hauled across her rival's lap and spanked hard. He follows this with a humiliating and severe bare bottom whacking with wooden implements. The stinging bathbrush is used relentlessy at full force and the heavy Chief paddle finishes off her treachery with 12 hard swats. Melody is a hard player but even this session made her think twice about what she'd expect from this special payoff!
Robert's life has been hectic with ongoing renovations at home and now in his office. The place is a mess and he has a Personal Assistant to help him run things more efficiently, or so he had hoped. Joelle was a beautiful young lady that he showed off at party events, giving his small company an image of credibility but behind the scenes it was a different story. The latest fiasco involves a missing Fax for an important contract, and his patience has been fully stretched this time. Joelle clearly hasn't sent the document and doesn't seem to care how important this was so Robert decides to take her over his knee to show just how much this contract actually means to him! He spanks the sassy brat over her tight black dress but she still doesn't understand what she's done so he takes it a step further. Spanking her over her panties starts to have the desired effect, she still refuses to show any true remorse so the ruler she had with her is used across her tight bare bottom, panties down, and now this gets her attention. Joelle struggles and squirms across his lap, hating the feeling of being helpless and ashamed as the ruler and his hard hand deliver smack after stinging smack across her reddened bottom. Now Joelle understands what she has done wrong and Robert sends her off to do the job properly!
This is a stunning real tears punishment at Triple A featuring one of our new girls, Elle Bea. She is the Head Girl and had been in so much trouble recently that she was about to lose that status but not before a final caning after school hours. Ella had already received no less than 2 previous punishments that same day. Mr Osborne stayed behind to give her a caning she would not forget and her nervous disposition was very evident! She was spanked over his knee, with her regulation panties pulled down revealing the shameful marks of her previous infractions. She felt so ashamed that tears began to form before the caning which brought them out in floods. For good measure, Elle also received many hard strokes of the carpet beater that she had been playing with whilst waiting for this punishment which Mr Osborne had noticed when he arrived earlier. She had been told to wait with hands on her head facing the wall as standard practice which all girls knew full well! Therefore, he ensured that after her very tearful caning, she resumed this correct position to reflect on her poor day at school, leaving her there to snivel and sniff as the tears rolled down her cheeks.
Adriana never did any of the chores when she stayed at her mother's place during the week. She had been told many times before that even just offering to do the washing up, or make some supper once in a while would be a courtesy instead of being reminded all the time. However, she was a selfish young lady, more interested in catching Pokemon or messaging her friends, preferring to interact with her phone than her mom! So when Adriana disrespected her mother one too many times, she realized all too late that this was a huge mistake. She hadn't been given a spanking at home for a long time and had forgotten just how humiliating and embarrassing it was. Her mother always spanked on the bare bottom! The awful memories started to flood back as she was dragged over her mom's lap and hand spanked hard with a withering scolding that she so hated. When the panties were pulled down, Adriana was reminded that a spanking in Mom's house was always done on the bare bottom. Adriana struggled and complained so much that she earned herself the hairbrush. A hard whacking with this implement brought back all the long forgotten memories of helplessness and shame. Adriana promised to be better when staying at her mother's house in future! Please welcome Miss Elizabeth to Triple A, she is awesome and you will be seeing more of her here in future at this site!
Another member joins the Triple A Wheelbarrow Club and this is a hot, intimate spanking of sexy Mandie Rae dressed provocatively in her British girl guide uniform. See Mandie explore just how embarrassing it is to feel exposed like that while her most tender sweet spots are vulnerable in this spread position. The use of specialist implements to create a maximum spread of humiliation, pain and redness that spreads all across her pert bottom are used to great effect! Fans of this unique spanking position will not want to miss this awesome rare opportunity to view Mandie Rae in a new film.
Please welcome Ava Nicole to Triple A Spanking. She is a wonderful new spanking star, better known in ABDL circles. She was introduced to us by our good
friend to the site, Adriana Evans. This debut film she made with us is available in full. It is the first of two major scenes where we knew Ava felt more comfortable. "What would that be?" Being a brat and deserving a spanking at home wearing cute PJs! So she is spanked by her babysitter (Adriana), and in a later episode coming up in a few weeks, you will see her getting spanked by Daddy. In this episode, Ava has been told to go to bed early for being an insufferable brat. It's still light outside and Ava refuses, pushing Adriana to do what Ava's daddy has said she can - spank her if needed! However, Ava is being so needy and annoying that Adriana tells her fetch the hairbrush that she spied across the room. Ava's PJ bottoms are pulled down and her bare bottom is given a sound hand spanking whilst being scolded before Adriana uses the hairbrush on Ava's tender behind! This is a fab introduction to a rising star in the online spanking scene and we are proud to showcase her obvious talents alongside Adriana Evans.
This is a special domestic discipline spanking film starring the one and only Erica Scott (with John Osborne as her husband). This time she pretends to be ill when he arrives home to get ready for their evening out with his new friend and his wife. John is a little more than disappointed when he discovers Erica's feeble attempt at deception to avoid having dinner with (who she thinks) a deplorable guy that she dislikes intensely! John is forced to cancel and instead lets Erica know there is a severe penalty for this sort of behavior that she knows only too well! He takes her over his lap and spanks her on her bare bottom before finishing off with a couple of implements he finds inside the bedside table. A nasty 3 tailed leather strap that licks every part of her sore bottom is followed with a stinging wooden paddle to seal in the telltale painful welts. Erica learns the hard way not to tell lies or alternative facts that are easily found out!
Director for UK operations at Lake Industries, Amelia Jane Rutherford, had been flown into Houston for a personal meeting with CEO, Johhny Lake. Her area had suffered the worst profit margins and he held her responsible. Johhny gave her an ultimatum to toughen her up, a spanking punishment in private, or if she refused, he would fire her right there! This haughty British lady knew her high paying job was at risk and reluctantly took the punishment option. However, she didn't know that the spanking would be on her bare bottom and she felt embarrassed and ashamed as her boss removed her panties! Amelia's long legs kicked and struggled as his hand spanked her cheeks hard over his lap like she was a naughty little girl. However, more humiliation was in store for her. She had been a little too defiant earlier and Mr Lake promised her a leather strapping but she thought he wasn't serious! Amelia was bent over his desk and she was scolded and reminded of what she had to do whilst all the time a thick leather strap was marking her beautiful tight bottom. Amelia's cries of anguish and genuine remorse and promises to do better means he has a motivated boss for this Anglo American enterprise. This is a hot punishment video of the one and only Amelia Jane Rutherford we recommend that you do not miss!
Rosie's personal trainer had only left the room for a few minutes and on his return he caught her performing some unorthodox balancing moves which could have injured her back. She was supposed to be doing more core exercises to strengthen her back, not ruin it! She knew the score when he was displeased and knew that various humiliating punishment moves would follow! Perhaps Rosie wanted to be caught? Who knows? She is a very naughty young lady! Rosie gets spanked in differing positions without too much complaint over her tight exercise shorts before these were pulled down and the harder spankings continued. Next followed more embarrassing positions, exposing the poor girl as her bottom was strapped and paddled. At the end you'll see her doing the exercises she was supposed to be doing with a sore red bottom on full display. Fans of Rosie Ann will love this video as she demonstrates how versatile and athletic she is whilst taking an unusual spanking punishment!
Bianca was a poor roommate. Audrey had put up with her as she usually paid her share of the rent on time but recently she had been pre-occupied with a game that had been a global phenomenon. Audrey didn't understand what all the fuss was about, after all, she thought, "wasn't it supposed to be for kids and not grown ups?" Bianca was addicted to playing Pokémon Go on her phone... anywhere, anytime she could. She had even started wearing clothing from the game and buying cute plushy characters which were littering the apartment. This infuriated Audrey when she returned home early from work to find Bianca lounging on the sofa, playing the game, surrounded by yet more plushies... wearing a Pikachu dress! Enough was enough! Audrey told her how she dealt with people who annoyed her or didn't do what they were told, a good old fashioned spanking! If Bianca wanted to behave like a brat then she'd punish her like one too! See this hot, sexy OTK spanking of fiery redhead, Bianca, by beautiful Audrey. What follows is a bare bottom leather strapping with plenty more naked humiliation in store for Bianca watched by her many Pokémon plushies!
This is a rather special spanking film to start off the year in style! It's over 30 minutes long and was a spur of the moment decision to record some real playtime off camera. Adriana Evans and John Osborne made this privately deciding only to show it now. No one else was there, no script, no roleplay, just a cathartic spanking session that Adriana needed at that time! There is no holding back in this long play video: "Spankee of the Year" Adriana takes a real hard traditional OTK spanking with and without the protection of her pants and underwear. When John was satisfied that she was thoroughly warmed up, he readied her for the next phase to keep the intensity going for as long as possible. Adriana wanted to feel pain and various sensations to help her release some pent up frustrations and emotions. This is a real intimate look as she takes a tearful, hard multiple leather strapping, including more playful or varied strokes along with plenty of encouragement from John. In the final scene, Adriana asks him for the cane. He varies the tempo, speed and intensity until the final climax of a very hard rythmic caning brings yet more tears which Adriana craved! This is not fake, scripted or a custom video. It is a real look at what close friends in the Spanking Scene get up to! She will always be one of our favorite models at AAA. It shows that we love working, playing and hanging out with her. We hope this shows a glimpse into the real life of us "kinkos" that star in or produce content for your viewing enjoyment!
Lily and Elle have been caught selling firearms in Singapore. Normally women would receive a lengthy prison sentence. Lily's mother is a senior member of the American government and the authorities are keen to avoid an international incident. They are to be secretly caned and then be deported. Elle, as the accomplice will receive 12 strokes and Lily will receive 24 for being the ringleader. Ahead of the severe physical punishment, a psycholgical deterrant of a humiliating medical examination, stripped bare and shivering, only makes them even more nervous and worried! Elle is first and taken to the Punishment Room. She is tied and restrained to the caning bench, then with a heavy rattan cane she is slowly and deliberately given each painful stroke. Welts quickly appear and you will see both the rear and facial angles as tears flow freely. She is returned to the medical room where Lily sees Elle a blubbering mess then the defiant girl takes the same harsh punishment with 24 strokes! In the epilogue, the girls are given lotion on a medical table to preapre them on a long and uncomfortable flight back to the USA later that evening! This is a special feature that observers of hard, calculated discipline will appreciate.
Anna has been caught out lying to John over a missed payment to a company that they had agreed terms with for a specialist new vacuum cleaner for their carpets and rugs. They had been impressed by the demonstration which cleaned one particularly dirty rug so they agreed a payment plan. However, Anna pocketed the cash John had provided and spent it on lingerie and personal grooming products instead and kept this a secret for quite some time until they contacted him directly! He presented the evidence of a lack of new vacuum cleaner and irate calls from the company but she continued to deny any wrongdoing! He was angry and tried to give Anna a chance to own up but she had continued to lie and once again was not learning lessons about this sort of behavior. Only a severe punishment would work, he thought, so he presented his thick leather belt and heavy bathbrush he knew Anna hated. he spanked her first, scolding her and reminding her of what was to come across her bare bottom. The leather belt was relentless and stroke after stroke hit the target ready for the final tearful severe bathbrush spanking that you have to see to believe! Anna's poor bottom took one hell of a lengthy punishment!
Christy Cutie is lazy and doesn't help around the house. It also doesn't help that she is looking for work and Sarah is having to provide for them both. So she is super pissed at finding Christy in bed when she comes home from a hard day's work! Sarah snaps and scolds Christy about the mess in the house and how she was supoposed to clean up. Sarah takes her over her lap on the bed and gives Christy a spanking but this lazy girl thinks it is all a big joke. Sarah decides the only way to properly punish Christy is to spank her on her bare bottom and humiliate her for being such a lazy slut. Christy's attitude changes when she is taken to the kicthen and confronted with the dirty dishes and counter top whilst getting a stinging leather strap and spatula then being humiliated with several intimate exposures of her reddening bottom. Finally Christy knows not to cross Sarah when she asks her to do the chores as she sniffles in shame, her red bottom fully bare and exposed as Sarah watches her do the washing up and cleaning!
John bought some new PJs for both Sarah and Casey leaving them on the bed as a nice surprise. He thought this gesture would be a small way to say "thank you" while they were all away on tour. However, the girls fought over who should get which outfit and started to grapple and fight. Sarah even dragged Casey over her lap & started to spank her before John heard all the noise and confronted them. He was really disappointed in both of them and their continuing arguing meant he felt he had no choice but to spank them both right there. They knew the rules! Sarah was first over his lap as she was the loudest and sassiest. He spanked her in front of Casey, pulling down her PJ pants, spanking hard on her bare bottom. Sarah felt embarrassed that she was being treated like a little girl. Casey was next after he sent Sarah off in shame, and John did the same to her. He ensured her film, pert bare bottom was reddened in shame before leaving Casey to contemplate just what had happened in that crazy quarter of an hour!
Lexi returns home far later than she had arranged and had also turned off her phone. This made John suspicious but he had waited for her and was concerned that she had been out to a small spanking party hosted by a man he had forbidden her to play with. He gave her room and knew she liked to play and had no issue with that, but he did with the man that he named "The Weasel". So when she did stumble in late, her explanations were full of holes and John picked through them until he discovered the evidence on her bottom that she had been at the party and the tell tale sloppy marks of the Weasel's woeful play. Incensed that she had lied to him, John takes his wife over his lap for a further painful hand spanking, then gets a small stinging leather strap to seal in those marks before using the "Liar Paddle" on her quivering, sore behind! This is an edgy humiliation and shaming video that includes lots of expletives, severe scoldings & punishment resulting in a very sore red bottom for a tearful Lexi the Liar!

Tour Pages at a glance 01 02 03 04 05 06 07 08 09 10 11 12 13 14 15 16 >
Want to become a model with us? CLICK HERE FOR FULL INFORMATION

All content produced & owned by SG Group trading as "AAA Spanking - Triple A Spanking" is copyright protected
Content sharing and password trading is contrary to our rights protected by the DMCA 1998
We make every effort to prosecute & stop those infringing our protected copyrighted content worldwide
Free Spanking Blog | We Sell DVDs | CCBill Customer Support | Other Support Queries | Webmasters | Our Clips Store | POV | Specialist Downloads | Links
18 U.S.C. 2257 Record Keeping Requirements Compliance Statement
© 2018 SG Group t/a Triple A Spanking - AAAspanking.com