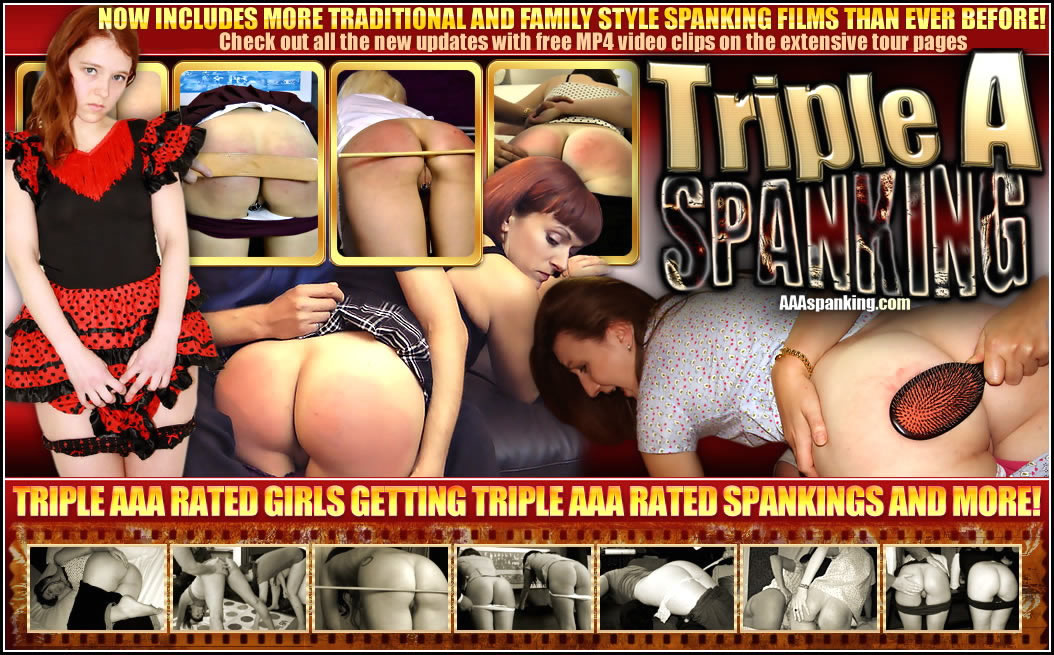 Mackenzie is in big trouble this time. Her Detention Punishment will not be pleasant, not after what she had been caught doing. The Punishment is held in the classroom where she committed her many acts of vandalism on the school's old maps in the Geography Room. She wrote over many towns and cities globally (including Mr Osborne's hometown from his native England) with newer "derogatory" names. Mackenzie's immaturity would mean a long hard discipline session with Mr Osborne who took her defacement of the maps personally! He tawses her hands at first, as a lesson that she should not deface school property. This theme is repeated with a very tearful Mackenzie made to repeat these words as she is spanked with her regulation navy panties and white gusset showing. This is followed by a hard leather strapping which has her crying almost uncontrollably but Mr Osborne isn't finished with this tearful schoolgirl yet. She is already feeling ashamed and humiliated and he saves his best to last with a severe caning. This reinforces the important lesson of the day not to deface school property! Mackenzie's tears are real and for those who enjoy authentic hard discipline of schoolgirls in believable settings, you really should not miss this one!
Sarah Gregory is so upset with Elle for cheating on her that for them to remain a couple she must show that she is sorry and submit to any form of punishment Sarah deems necessary. Elle has already been caned and she didn't seem to mind that, so Sarah knows exactly what to do next! Perhaps a little humiliation and embarrassment would help focus Elle on her poor behavior? So Elle is placed in the wheelbarrow position, the most submissive and tear jerking position that Sarah knows for her cheating girlfriend! Elle's panties are ripped off and her bare exposed parts are on full display as Sarah uses her hand and the bathbrush to really get the point home. This video has multiple angles which has never been filmed like this before anywhere on The Internet and the sight of beautiful green eyed Elle taking one of her most humiliating punishments to date is not to be missed!
Ten Amorette stars in this latest schoolgirl spanking movie. She is about to receive a very hard, humiliating hand spanking and leather strapping. Her stepdad, John Osborne, was called to come pick her up from the school educational trip and take her home from where they were all staying overnight. This was a 300 mile round trip for him and he was angry that she had let down her school, herself, her mother and himself. She wouldn't admit to her behavior at first (but those who will view the full film are able to find out what she did to warrant sending her home immediately). Stepdad had brought with him a leather strap that they used at home and he wastes no time telling her she is going to get a hard spanking and strapping to make the journey home as uncomfortable as possible for her! Ten is embarrassed that he is spanking her on her bare bottom, her panties pulled down whilst still in her school uniform. Spanking her over his lap is just the start as he finishes with a relentless strapping of her sore red bottom, bared and bending over. She takes her punishment, close to tears and when he knows she is feeling totally humiliated... tells her to get ready for the long ride home. Just wait until her mother finds out!
Rosie helps out at the horse stables of her mother's best friend, Jadie Reece. She has a reputation for being a strict disciplinarian. Rosie secretly fantasizes that she would get punished by her and decides to see if Jadie's reputation is real or not! Instead of preparing Jadie's favorite pony she still has the saddle indoors and pretends that she is riding a pony! It's not long before an irritated Jadie catches Rosie in the act. Not only is the saddle not ready but she took her favorite riding crop and hat that she had been looking for. Jadie's tone changes, "this is it!" Rosie thinks... she can barely speak, her throat is dry and her heart racing as Jadie scolds her, promising discipline there and then. Rosie is spanked still "riding" the saddle, her tight jodhpurs stretched allowing Jadie's hard hand to smack her throbbing bottom! Rosie's head races with mixed emotions; fear, excitement, trepidation... her head is buzzing and barely hears the order to pull down her jodhpurs for a bare bottom spanking. She fumbles with the buttons... and trembling, does as she is told! With her bottom in the air, Rosie complies silently offering up her bared cheeks to the riding crop and a stinging leather paddle that Jadie kept for the stable boys! Now this paddle has a new victim. Rosie's bottom is red and visibly swollen at the end of this punishment. Jadie leaves her to compose herself and reflect on what had just happened, reminding the young girl that she still had a job to do. Get the pony ready for the morning ride!
If you can remember, there was a requested wheelbarrow spanking of Amelia Jane Rutherford at the hands of Joelle Barros some time ago.
For your information, you can see that film HERE - Well, unsuspecting Joelle had a surprise in store as there were many requests to see this beautiful, latina brunette given a longer and more embarrassing spanking in this position too. To add to her humiliation it was to be performed by John who delighted in telling her how exposed and vulnerable she had to be feeling! They are good friends so he knew exactly what things to say and how to spank her like this. A more traditional OTK spanking fails to get those vulnerable sweet spots that can be deliciously painful with the best placed smacks that only work in this position! It's another fantastic wheelbarrow film and as we say, "practice makes perfect!" So welcome back to Joelle in this familiar yet very uncomfortable position that includes some interesting double handprint shots of her visibly reddening cheeks. This video includes great facial reactions with special slower motion views from behind that capture more of the action!
This is a special long play film that features Anna and John, who have a real life mentoring relationship. John cares very much for Anna and she needs hard discipline when she doubts herself or puts herself down. They have never filmed anything publicly like this, until now. This is typical of some of the sessions they have worked through in private. Anna is an incredible woman, she often doesn't know it and although she has a great tolerance for more severe style punishments she feels every slap. swat and stroke. The reasons for her punishments are discussed briefly throughout but the focus is on "how" she is punished. There are a variety of wicked and nasty implements which she dreads and is familiar with. So John starts with a warm up hand spanking, he wants her to reach her threshold with each style he uses. The over the knee spanking is more personal before she is placed on the ottoman, bottom up, for the various leather straps. Some are very stinging, others heavy and thuddy and the tempo is upped until she can take no more of each until he uses the long heavy duty "Hanks gunbelt". Anna needs to be warmed up thoroughly as the next part involves a large bathbrush and stinging paddle which cause her to yelp out. Check out her facial reactions! This really hurts and the message is getting through about the issues they have discussed. The finale features the anticipated caning. Two different Dragon Canes are used with varying tempo and severity. These strokes are some of the hardest we have filmed and they are applied to an already very sore red bottom! This will appeal to lovers of severe corporal discipline with over 30 minutes of action scenes, it really is one not to miss!
Sisters! They can be best friends or fight like cat and dog when they are growing up together. Zoe has resisted the urge to get her own back on her younger sister, until now! Belle's "cool, prim and proper" demeanor she portrays to their parents is annoying Zoe as it's a lie. She is always getting into trouble because of Belle as she is regarded as the bad sister when in fact Belle is equally a brat in real life but poor Zoe is often blamed! Belle soon discovers that getting her big sister into trouble has some painful and embarassing consequences as they scrap and Zoe trashes her room before taking her over her lap for a spanking like mom and dad have given them in the past! Only Zoe is meaner... all that pent up frustration is taken out on Belle's pert behind as Zoe reigns down smack after hard smack with her hands before using the dreaded Mason Pearson hairbrush that stings like hell. Zoe leg locks her sister who is still thrashing around and struggling to avoid the inevitable heavy thwacks of her hand and the hairbrush on her delicate sore bottom. This is an awesome rival sibling punishment film as the older sister once again asserts her authority in the house. Stars Zoe Page as the older sister with Belle Calder on the receiving end!
Lola Marie and Dodgy Dave are out in the garden enjoying the sunshine but they are also there to have some fun as Dave loves Lola to carry out some serious Face Sitting "play" - John catches them both at it and is shocked that Dave would allow her to do such a thing. John is intrigued by what he saw, but he prefers to spank his ladies and tells her that she will get a spanking from him right there. She agrees but only if she'll help enlighten his narrow views on what he had just witnessed and she also makes a promise to give him a special treat! So John agrees and is rather excited at the thought of what she'd do after he had spanked her bare bottom with his hand and a bathbrush, in the warm summer sunshine. The treat is something special that Lola does with her lovely breasts which can be seen later in this cheeky episode. Surely someone in the UK should ban this wondrous, scandalous filth? "In your Face!" A fun, consensual facesitting & spanking with a delightfully naughty kinky twist!
There's been many punishment and severe discipline videos recently from us so here is something a little less severe but ever so sensual and erotic! Sarah loves to play with Isobel and submissive Isobel loves nothing more than to be her wicked, naughty plaything! Perfect! Watch two incredibly beautiful women doing "their thing" as Sarah gets to spank Isobel in a variety of revealing positions and various states of undress until Isobel is naked and visibly excited. Sarah kneads her girlfriend's bottom, playfully groping, grabbing and spanking her already sore cheeks from lots of filming previously! This is a warm-down video for Isobel at the end of her final filmshoot (ever!) so this is a visual treat as both girls are smoking hot! Sensual or erotic, or both... you can decide, but it is a beautifully crafted spanking film with a sexually charged twist! Warning: "Trouser Arousal" rating is set very high! Watch with extreme caution :)
This is the concluding part to Ava Nicole's introduction from when she was spanked by her babysitter, Adriana Evans, from this episode HERE
Now Ava faces her second spanking of the early evening when daddy gets home, and it is still light outside! He discovers that his daughter had been a real brat to their babysitter. She knows the rules: Any spanking that he hears of would be dealt with again, in the same fashion as an additional deterrant! So poor Ava, her bottom still very sore from her previous punishment hours earlier, is to receive yet another humiliating, bare bottom hand spanking. This is followed by a steady, hard hairbrush spanking in one of our more severe short sharp shock style punishment films! Ava is the winner of the "New spankee of the year" for 2016, find out why in this latest film release exclusive to our site!
Sarah was on vacation with her favorite Aunt (introducing Samantha Baker) who was like a good loving mother to her when she travelled to see her in Las Vegas! As we all know, "What happens in Vegas, stays in Vegas!" as the saying goes, so when Sarah took advantage of her Aunt Samantha's generosity and lack of a curfew she had no idea what sort of price she would pay for breaking that trust! Samantha had been up all night sick with worry, her niece hadn't answered any of her texts and she gets home at 6am! The sun is already up and so is her Aunt... waiting, and angry! Sarah had no decent explanation, it was obvious she had been out partying and drinking and accepting gifts from strangers! Aunt Samantha shows Sarah, first hand, exactly what used to happen to her cousins when they misbehaved (she thought these stories of spankings were just rumors!) - Sarah has a choice, she takes a punishment as her Aunt sees fit or her folks back home find out! Sarah takes the "What happens in Vegas" option and she is told to go over Aunty's lap and she is hand spanked over her tight leggings, but of course, along with the scolding this isn't going to teach Sarah much! So she is spanked over her crimson panties and soon her bottom is reddening in unison. Aunty has the final word on the matter and pulls down an embarassed Sarah's panties, which was humiliating enough with the continued hard, relentless hand spankings. Aunty also had a leather paddle which she used on her niece's sore bottom which really got the lesson home to behave more responsibibly in future!
Please welcome Mackenzie Reed to Triple A Spanking - a genuine lifestyle player new to the online spanking scene that has been causing quite a stir and you will see why in this latest film. It features real discipline punishment with a heavy leather strap and rattan cane that brings her punishment to a very tearful conclusion. CEO Johnny Lake is far from impressed that Mackenzie has lied that she is able to speak Mandarin and he needs his best staff close to him to complete an important deal in China. All of his closest employees are all paid very highly as he has an unusual approach to disciplining his staff which they all accept. Mackenzie is called in and scolded for being unable to speak Mandarin and given plenty of reminders that she has a week to improve before the deal is concluded. This is a hard strapping and heavy caning which brings out a flood of tears as she sobs that she will not let Mr Lake down! Don't miss this stunning debut of Mackenzie Reed available now!
See how a daddy and daughter are unaware that they lust after the same girl, beautiful Casey Calvert. Casey is persuaded to come back to Sarah's place after cheer practice and Sarah makes a move on her classmate who doesn't respond to her advances. Sarah playfully spanks her at first to deflect the situation and of course Casey has been keeping a secret from her friend as she has been dating her father. So imagine his surprise when he catches both girls during a spanking session! He has to appear to be the stern father and decides to punish both girls. Sarah gets spanked at home and is embarrassed that she is spanked next to Casey... but imagine how difficult it is for Casey as she has to keep her secret from her friend so takes the punishment as well! Both girls are spanked with their panties pulled down, cheek to cheek and daddy sends Sarah off early to bed leaving him all alone with Casey as their affair remains a naughty secret... as you will see!
This is a special feature with a real mother/daughter dynamic between (Mother) Tasha Lee... and her daughter (Angel Lee). Angel has lied to her mom yet again about the time she would be getting home from school, preferring to stay out and play various games on her phone. What Angel forgets is that her mother was once her age and every parent knows exactly what their will think up when it comes to skipping school, staying out late or sneaking home later than they should. It's a rite of passage, but Tasha has given her daughter too much leeway and feels it's time to teach her a proper lesson in respect. She is waiting for her in her bedroom and Angel is surprised and at a loss to come up with an excuse at such short notice. Mother knows what to do, an old fashioned over the knee bare bottom spanking! Angel sobs and pleads that she'll be good, however, this only spurs on her mother to use the wooden hairbrush forcefully on her reddening sore bottom. It ensures that her daughter really does learn her lesson and that mother always knows! Do not miss this fantastic opportunity to see a real "spanking scene mom and daughter" in an authentic, traditional discipline film made exclusively for Triple A.
Student life was tough for young Casey and to save money she stayed at her Uncle John's place which was close to the university. Of course, there were strict conditions and house rules which often resulted in her getting spanked. Casey didn't want to go in today because she had not studied for a test and pretended to be ill when her uncle wondered why she hadn't already left. However, he knew what she was up to and decided to play a game, threatening her with a rectal temperature taking to see if this mystery illness came with a fever! She admitted she was lying when he was about to find out "the embarrassing way!" He wasn't impressed and took her over his knee for a hard, humiliating hand spanking which he hoped would make it uncomfortable for her to sit down, especially for that Test that she had wanted to avoid! Her sore bare bottom was gradually reddened and uncle paid particular attention to her "sit spots" to make sure she understood that deception and lies would not be tolerated. This was a most demeaning and embarrassing early morning spanking that poor Casey had taken in a long time! See for yourselves in this home discipline video starring beautiful Casey Calvert.
Lily had overslept for a special Tournament that she was supposed to be competing in. Her Coach had to come find her but Lily was looking worse for wear from the previous night and Lily felt embarrassed as she had fans and so many people, including her coach that she was letting down. Adriana, her fitness coach, took no nonsense and had often spanked Lily in the past to motivate her to be a winner but this time the spankings were to be much harder and meaner. Lily was woken up with a furious and relentless hand spanking across her bare bottom. She struggled and cried out loudly in pain but Coach wasn't finished with her. She made her present her bare bottom on all fours, fully exposed on the bed for a wicked leather strapping. To add to her humiliation, Coach Adriana gave her a most humiliating scolding. Finally, in order to get Lily ready for the remainder of the Tournament, she got her to dress in her spandex fitness pants and checked that despite the redness not showing, Lily would feel one last painful spanking through the tight material before she escorted the lazy fitness model to the arena.
Zooey has been sent to bed very early after her mother found out that she had been punished at school yet again. "Just wait until your father gets home" she told her daughter... "A spanking at school always means a spanking at home!" However, Zooey's daddy is so disappointed that his daughter has brought shame to the family name that this time she will also get a nasty stinging, leather slippering. That is on top of the humiliation of going over daddy's lap for her embarrassing bare bottom to be spanked red raw again! See Zooey, in her cute pajamas, take yet another punishment at home across her already sore cheeks which has her yelping, squirming and begging Daddy to stop. He stops, only to deliver that slipper that he had promised earlier. This is a good old fashioned home discipline film that will appeal to those that love this father/daughter dynamic.
Alex and Maddy managed to get a free trip for a long weekend away with their kinky friend, John. He had a spare king bedroom in his casino hotel suite for them all to enjoy a well earned break away. The girls decided on relaxing on their first evening with a "Littles" style slumber party. He wasn't interested in that so left them to it... going downstairs to gamble for a few hours. Unfortunately, they were rather too noisy and John was called directly when they refused to pick up their roomphone or answer the door due to their raucous playfighting! So John was asked to sort out the noise of the girls that other guests had complained about! He caught the girls in a loud pillow fight and chastised them both for embarrassing him by having the Front Desk call him directly! However, for him, this was a good excuse to spank both girls, since they were behaving "so badly".. He also knew exactly how to get his own back on them with more than just a hand and hairbrush spanking. Whilst they were in their headspace, he used their cute stuffies, including "Boo the Dog" to watch their punishment. Alex complained that she didn't want the animals looking, so was given an extra hard hairbrush spanking for speaking out of turn. This was the first ever film we made with Alex & Maddy together, It's a fun and immensely enjoyable spanking film that ageplay, bare bottom spanking aficionados will love! The video comes complete with a delightful image gallery with some beautiful bonus pictures of Boo spanking the girls very sore red bottoms with a hairbrush!
Syrena had returned late from a private spanking suite party she had failed to tell her boyfriend and dominant, Johnny, where she was. As she was Johnny's collared submissive, she should have at least had the courtesy of telling him where she might be and who with! he was worried sick! She arrived back to their hotel room to find him waiting for her. He wasn't angry, he was beyond that, he was just disappointed, so very disappointed! Now, of course, there were trust issues too. Syrena knew what was coming... it was to be her "D-Day". Her Discipline and Johnny's disappointment in her behavior. She was all marked from recent play (which he was not impressed about) and he told her that she was getting punished right there and then! Watch beautiful Syrena take a hard bare bottom hand spanking, whilst Johnny scolds her and reminds her that she needs to earn his trust once more! She also knows what is coming, her bottom is already aching and feels on fire but she is told to lay on the bed and present her ass for his custom made "doubly thick" Reformatory Strap. She is so nervous, she feels ashamed and she knows this will hurt a lot! Her poor bottom is strapped heavily, each swat of leather follows through. Syrena is close to tears promising that she will do her best not to disappoint him again. This full length film also features bonus footage of Syrena's beautiful facial reactions during her OTK spanking. It is one film fans of Syrena will not want to miss!

Tour Pages at a glance 01 02 03 04 05 06 07 08 09 10 11 12 13 14 15 16 >
Want to become a model with us? CLICK HERE FOR FULL INFORMATION
Other sites in the SG Network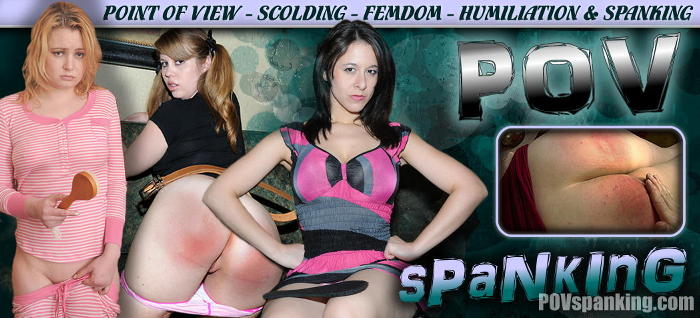 All content produced & owned by SG Group trading as "AAA Spanking - Triple A Spanking" is copyright protected
Content sharing and password trading is contrary to our rights protected by the DMCA 1998
We make every effort to prosecute & stop those infringing our protected copyrighted content worldwide
Free Spanking Blog | We Sell DVDs | CCBill Customer Support | Other Support Queries | Webmasters | Our Clips Store | POV | Specialist Downloads | Links
18 U.S.C. 2257 Record Keeping Requirements Compliance Statement
© 2018 SG Group t/a Triple A Spanking - AAAspanking.com