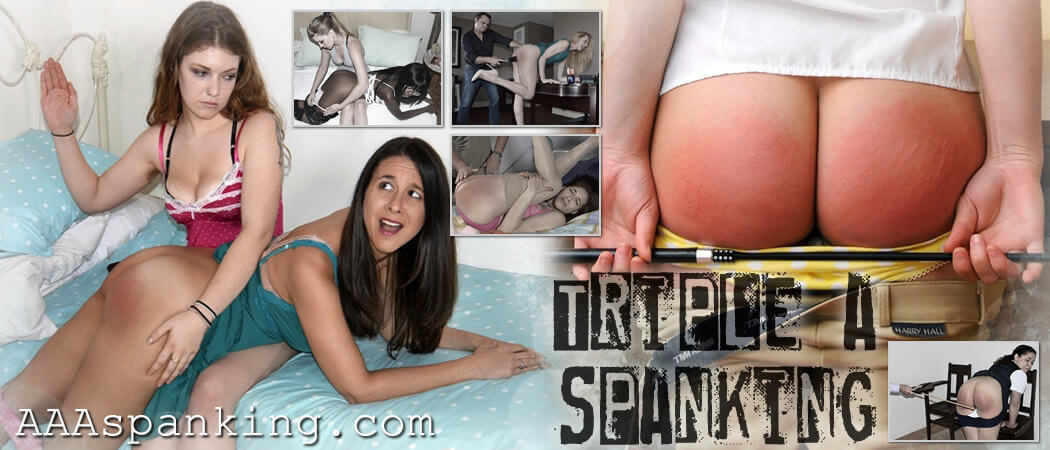 Kami Robertson is in detention for fighting with the other school's tennis stars during practice. She is not remorseful at all when confronted by the teacher in charge of her detention discipline! To teach her respect and some manners he spanks her in her tennis kit without the protection of her panties as she is also given the leather slipper and hairbrush heavily across her tight bare bottom. This starts to have the desired effect of making this arrogant young madam just a little more compliant and sorry for her recent disgraceful behaviour!
Nurse Page had come far in her short time at work & had all the qualities of the classic Matron patients & staff knew from the glorious days of the National Health Service (NHS). She knew her job, she took no nonsense from staff & lived for giving unruly patients wet, uncomfortable bed baths, she was also a stickler for strict discipline! Zoe was often resentful of the junior & trainee doctors who thought they knew it all & were disrespectful to her nursing staff. Miss Fox had no choice but to rent a room at Nurse Page's place when accommodation elsewhere was full & she had had to put up with some rather bizarre discipline sessions! This punishment involved Zoe's wonderful trumped up excuses, Aleesha's bewilderment & acceptance of these naughty rituals unique to Zoe... this time with an array of several hairbrushes & a stinging wooden ruler that would be used across Aleesha's bared anatomy whilst still dressed in her medical Scrubs!
The girls discovered some chocolate bars left on the Dining Room table and selfishly begun to scoff them oblivious to the fact Uncle John had caught them in the act. With chocolate still stuck to their mouths, exposing them as the greedy gluttons they were, John was forced to make a decision, he had to be "cruel to be kind" and decided to punish them both the same way that cured the girls of their nasty smoking habit previously. He would associate scoffing too much chocolate with humiliating punishment & the girls were told to get up on the table, baring their bottoms for a nasty spanking & strapping they wouldn't forget in
a hurry as he force fed them more chocolate chunks until they were disgusted by the fact they were tasting this oh so sweet treat yet were getting their bottoms thrashed red raw! A lovely film with the 1st pairing of Amber & Sophie in some beautiful PJs that we know lovers of pyjama discipline erotica will love a lot!
Danielle needed a change of scenery and left the bright lights of the city for an easy sleepy life in the rural countryside but little did she know how hard the locals worked and toiled and they also had their own ways of dealing with those that wouldn't behave or perform as expected! So imagine when Danielle was caught slacking yet again, this time wearing ridiculous attire and avoiding the important duties of milking the cows. The busy farmer had a short sharp shock reminder for her as he hauled her across his lap for a humiliating bare bottom spanking, cropping & heavy 3 tailed leather strapping that she wouldn't forget in a hurry! Young Miss Hunt would do well to remember that Countryfolk never take kindly to city slickers that think they are above a bit of hard decent graft! Contains scenes of OTK spanking, the leather crop & a heavy 3 tailed strap on the bare bottom followed by gratuitous use of soothing lotion afterwards!
This is the 3rd of 4 films featuring naughty schoolgirls, Aleesha Fox and Jenna Jay. In this short sharp shock film we see Aleesha given the paddle and cane in a humbling film that has her quickly trying to behave to avoid further pain, shame and humiliation as both implements are used with devastating effect on her sore red quivering bottom! Great reactions and some genuinely severe CP when a naughty girl must really learn her lesson the hard way! Enjoy the next installment from the "Uncle knows best" series.
Joelle was waiting for her all too often bedtime spanking and once again she dared to defy his wishes to avoid wearing underwear below her cute PJs. He knew her all too well and a quick inspection revealed she still had her bra and panties on which infuriated him! This time she had gone too far and this simple spanking punishment turned out to be a little more humiliating and memorable for Joelle, who could just finally learn this time that blatently disregarding House Rules would result in much sterner measures! Firstly, Joelle was made to strip off completely naked in front of him, she was asked to hand him her panties and bra, then he watched her put on her PJs again, as they should have been. Then the punishment begun, but not with the hand, this had merited the heaviest and nastiest punishment hairbrush that he could find and her tight bottom was not spared at all. Watch some fantastic reactions from Joelle who looked amazing in those cute authentic English PJs. This was one of John's favourite short sharp shock movies that had very little intro dialog and just went straight into the action, we are sure you will all enjoy viewing this beautiful bratty damsel in distress!
Alex Reynolds was the subject for prefect Zoe Page's study on how to carry out the perfect detention as shown by Mr Kennedy. This was needed in the absence of teaching staff due to ongoing Education cuts to teacher funding at the school. Alex was a complex subject for Zoe to observe as this American Exchange Student tried every trick in the book to wriggle out of her guilt until confronted with overwhelming evidence! This would be no simple spanking punishment, as Zoe had secretly hoped it wouldn't be... Miss Reynolds' lies & her refusal to own up when she had the chance saw to that! So her regulation panties were removed then she received various tried & tested methods of discipline on her bare, quivering bottom in the cold austere classroom. This would include the heavy punishment hairbrush, a thick leather strap & a painful wooden paddle (to make her feel at home). Zoe watched eagerly taking notes as the punishment unfolded so she could step in if needed whenever Mr Kennedy decided to leave the room. This is a special long play 2 part detention series of student Alex Reynolds & we know you will enjoy this! See what happened in this schoolgirl spanking film with a true authentic, depressing classroom setting!
At last! We got our act together and edited the first film that beautiful and very sexy Carissa Montgomery did with us! This was her 1st time spanking with Triple A as she smouldered for the cameras whilst showing us all her most amazing bare bottom getting a good hard sound red bottom spanking over John's knee! This is a very hot OTK spanking as only Carissa is capable of pulling off for your absolute viewing pleasure! We hope you enjoy this little pre Xmas treat!
Aleesha should have been in her own room studying before bedtime instead of gossiping with her dorm neighbour, Jenna. The girls were discovered chatting & giggling by Miss Page, on her way out for the evening before a final check of the Dorms. It was just as well, the girls were mischievous & answered back too quickly so she spanked them both & just happened to possess a handy leather paddle on her person to wipe the smirks off their faces. Mr Osborne (well known for his continual patrolling of the girls corridors at all times on the lookout for trouble) heard the commotion & graciously took over from Miss Page's efforts to allow her a night out whilst he finished off chastising the girls with his hand & hairbrush that soon had both girls bottoms turning red with shame rather quickly! Dorm style PJs & giggling sassy girls getting what they deserve? It's a very likeable film, we hope you enjoy viewing it as much as we did making it!
Welcome to Alex Reynolds' 1st F/F spanking film here at Triple A & what a stunning debut it is too! She was on a sleepover with Zoe Page, a real bratty princess who always gets her way. The girls play & have a pillow fight but then Alex said some horrible things about "Mr Bear", Zoe's huge stuffed cuddly teddy. Things really took off as Alex was pinned to the floor and spanked by a spiteful Zoe as Mr Bear watched! Then to add insult to injury (or a very sore red bottom) Zoe fetched her hairbrush to remind Alex who was in charge & then placed her over the lap of her stuffed teddy with her bottom exposed & burning red for Mr Bear to have a go! How humiliating! This is a delightful sleepover romp for pyjamas lovers & contains some great banter with good hard spankings you'd expect from Zoe!
Ashley Graham is a very naughty and bratty young madam who shows some of that sassy attitude as she wriggles, complains and squirms over John's lap as he gives her a deserved spanking after complaining about being on a spanking shoot rather than modelling lingerie! Ashley hasn't been spanked for a while so what better than to get her lovely derriere nicely tanned with a good old fashioned OTK spanking! She's a gorgeous girl who we loved filming and she has the most jigglesome booty and boobies imaginable! See for yourself in this first ever film she made with us!
Amelia and Molly enjoy nothing better than pleasing their kindly Uncle David who saved them from a life of crime years ago in what he described as their mad
"Porno Incident". Of course, they never talk about such things anymore and help him in any way they can nowadays. So when the girls noticed that he was getting stressed at work they decided to give him a special treat to help him relax. They waited for him in the sexiest lingerie they owned and allowed him his one real pleasure left in life... spanking naughty young ladies! However, the girls forgot that ol' Dodgy liked to use the bathbrush as well as his practised hand. This is a wonderful naughty spanking movie that will make some of you jealous that this man lives in such a therapeutic spanking relationship!
Daddy's precious little girl, Jenna Jay, was kidnapped and taken to a secret location where she was filmed in a most humiliating way. Stripped naked, bound to a punishment bench, blindfolded and ball gagged! This video was made with the sole purpose of upsetting her wealthy father into agreeing to pay the realistic and modest ransom of $1Million! This severe spanking and BDSM style punishment was just the start of her ordeal if daddy refused to pay up after viewing this horror! See what they filmed... and see why he stumped up the cash, no questions asked, rather quickly!
Welcome to the final part of John's fantasy spankings. Imagine having such a naughty girl guide minx in such a provocative position over your lap and then spanked in that most revealing wheelbarrow position! Well, imagine no more as John fulfills his fantasy in one of his favourite films that caused the poor man all sorts of "Trouser Arousal" issues! Naughty Mishka assumes her place over his lap in a traditional OTK spanking first with some nice camera angles before the final wheelbarrow spanking takes place with lots of gratuitous bottom rubbing, groping and carressing in between the spankings. You will also see copious amounts of lotion being rubbed and massaged into Mishka's very sore red bottom! She only ever worked for our company in the UK before retiring from spanking & disciplinary films for other companies so we are very privileged to bring you yet another film in this very naughty and popular spanking series!
Sometimes we can't hide the fact that we enjoy making our films and this little movie was nearly overlooked as our stressed out webmaster thought this film had already been published! Oops! Now as it co stars Sarah Gregory (voted spankee of the year 2012) we thought it wise to show you this film sooner rather than later and as a fantastic bonus it also had a giggling and very bratty Donna Davenport giving John a hard time over his huge stash of spanking magazines that both girls had found in a bedside cabinet whilst they were stopping over at his place. The girls made fun of him but not for long as first Donna then Sarah got a rather hard (and we do mean hard!) OTK spanking followed by a heavy hairbrush. It's a fun pacy film and the spanking punishment dished out was more than sufficient to make the girls realize John meant business! Don't miss this film which will make you smile, it's a great little piece of spanking fantasy entertainment!
Danielle has been staying at a strict religious household, her parents had given up on her, unable to look after their wayward daughter. Bored out of her mind in this stifling place, she had secretly bought some "toys" online to relieve the frustration when stuck in her sparsely decorated room that had reminders of what happened to bad girls. By her bedside remained a cane & a horrible carpet beater, which her adopted uncle used on her from time to time. At the start of this film we see Danielle pleasuring herself with one of her purchases but then she got caught in the act nearing orgasm. Her strict uncle was shocked & angry that this self defilement had happened under his roof so he unleashed a torrid amount of cane strokes & whacks with the carpet beater to ensure Danielle learnt that such impure actions would not be tolerated whilst under his care!
This is the 2nd of 4 films featuring naughty schoolgirls, Aleesha Fox and Jenna Jay, with their various put upon uncles who have tried to look after them and bring them up properly but these 2 are far more worldy and know just how to run rings around kindly Uncle "Dodgy Dave" who they adore as he lets them get away with all sorts (unlike nasty old Uncle John). It seemed the girls had learnt nothing and have shown only disrespect since their last punishment in the kitchen. They were caught loafing around in the sitting room watching TV after coming home from school instead of doing their homework and household chores. You will see a darker side to Uncle this time as he humiliated both girls spanking and strapping them until they finally stopped answering him back and to understand and listen to his reasonable request to follow the simple House Rules - but will this be enough? Watch this movie and find out! Domestic and cute schoolgirl uniform lovers will enjoy this from the latest series of "Uncle knows best" films!
Zoe invited her rival cheerleader captain to her home for a full explanation as to why Jessica's girls were copying Zoe's routines. This soon descended into a heated argument then the girls fought until Zoe subdued Jessica & started spanking her for being a brat! Just as Zoe got in her stride to really teach Jessica a lesson, her father came home & sent Zoe to bed early for daring to use his own methods of correction. Before that, he ordered Zoe to bring the spanking implements & Jessica's punishment continued over John's lap when she got the whacking of her short life. It included a nasty hairbrush punishment which brought her to real tears & she soon learnt her lesson, unable to withstand the punishment given to her. Fans of Jessica's very real fearful reactions will not be disappointed to know this film is a little "beaut" with her dressed up in that cheerleader outfit, her red rump sure looked mighty fine!
Secretary Kami Robertson was aware that something was up as her boss had left a pile of spanking implements lying on her desk when she arrived at work. She soon discovered why as he had pointed out that the bank transfer she was asked to make to a Trust had been made in error due to her carelessness in transferring out 10 times the amount by adding an extra zero. John had been contacted by his bank & had managed to sort the mess out in time but he wasted no time in telling her that she was going to get one hell of a punishment thrashing for her monster mistake! He was going to use all the implements laid out on the desk: the leather strap, a horrible bathbrush (which he promised he was going to whack very hard for her error), a horrible stinging paddle & a whippy cane which he knew would leave yet more marks on her very sore bottom. This long play movie includes gratuitous use of Kami's favourite butter cream which was rubbed into her sore, swollen cheeks at the end after receiving one of her hardest punishments on film! John & Kami admitted afterwards that this was one of their best films they had made together & we hope that you will see why! See how much Kami could take as she entered her own private world of pain!
Triple A Spanking is a fully integrated part of the SG Group owned & operated from the USA
The SG Group owns & operates several successful websites such as:
sarahgregoryspanking.com mommaspankings.com & cheerleaderspankings.com
All content produced & owned by SG Group trading as "AAA Spanking - Triple A Spanking" is copyright protected
Content sharing and password trading is contrary to our rights protected by the DMCA 1998
We make every effort to prosecute & stop those infringing our protected copyrighted content worldwide
Free Spanking Blog | We Sell DVDs | CCBill Customer Support | Other Support Queries | Webmasters | Our Clips Store | POV | Specialist Downloads | Links
18 U.S.C. 2257 Record Keeping Requirements Compliance Statement
© 2019 SG Group t/a Triple A Spanking - AAAspanking.com