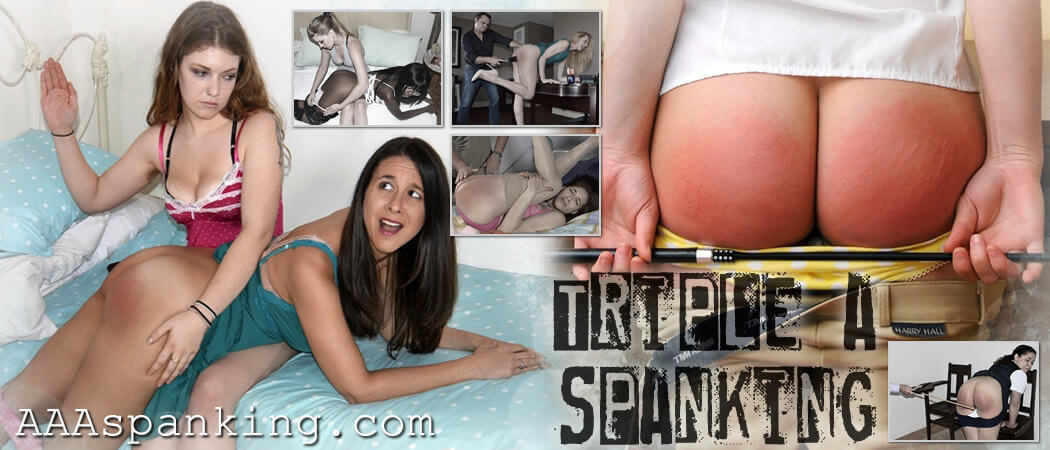 Young Cassy is quickly establishing herself as a real sassy brat in the online community. She is able to give as much as she takes with her friends from the Seattle scene. So let's see what happens when Cassy interrupts John, hoping that her sexy appearance will persuade him to drop everything and take them out for a nice evening when she knows he has a lot of work to do. After all, what Cassy wants, she gets... right? She uses her beauty and natural sassy attitude trying to convince him they should go out right then and there but it doesn't work and earns her a spanking instead. Maybe that's what she wanted all along as she smirks when he takes her across his lap. Cassy can take quite a hard spanking and this is one of those times so her panties are pulled down and he continues with the punishment only she is enjoying this too much. John produces 2 leather straps, one thuddy and one that she really hates, the stinging Compliance Discipline Strap. The strappings are carried out with a relentless passion as Cassy takes it all, even enduring a few swats of the hatred Compliance Discipline Strap to really grab her attention. Watch this debut at AAA of a beautiful 20 year old girl taking one heck of a spanking and strapping possessing one of the cutest bottoms you'll ever see bared and punished!
This is another excellent film in our School Detention Punishment series and this time it is a special "Double Detention" for Nuna Starks (making her first appearance at Triple A) and Mackenzie Reed. They have been told to report to the school's punishment room where they will be disciplined after school. This is no ordinary detention, as these girls are a whisker away from being expelled, this is their final punishment and it will count! The girls are nervous, and are fully aware of how much trouble they are in but didn't expect such a harsh and humiliating session as this one! Kenzie is taken over Sir's lap and given a spanking on her crisp white panties, whilst Nuna is told to watch. The girls swap and it is Nuna's turn. the tension builds as Kenzie goes over his lap for a panties down, bare bottom spanking. This is repeated for Nuna, who kicks and squeals as the spanking starts to really hurt. Then they are told in turn to take turns at kneeling on the bench as the other girl watches the Reformatory Leather Strapping of the other. It is hard and mean, and poor Kenzie quickly loses count in between the floods of tears. Nuna can see the obvious anguish of her fellow conspirator and learns to concentrate on keeping count of 12 hard swats of leather. The final installment is unexpected as the girls are given a blistering caning, but they have to hold each other's hands and look into the eyes of the other across a table. This is deeply personal and so humiliating that it brings yet more tears to both girls! It is a tearful detention punishment that these young ladies will not forget, which is the whole point as this is their final chance to remain in school! So it is hoped that this will remind the girls just how serious it really is!
Audrey has been hiding from her mother where and how she works at an underground club and that this is her main source of income. She knows if her mother ever found out it would be hugely embarrassing! So it had to happen eventually that she would get found out... and this is where we find Audrey sneaking in late only to discover her mom is still up and awake downstairs (reading a book). Busted! Miss Elizabeth is shocked and upset at her daughter's slutty appearance and quickly finds out exactly how she earns her money in a kinky underground club called Destiny's Chamber - Hearing how Audrey spanks and gets spanked at this club, she decides to dish out some punishments of her own for having such a deceitful daughter. After a long scolding, Audrey is taken across Mom's lap and it is all rather embarrassing for her grown up girl, exactly what mother wanted! It gets worse for Audrey, as Mom pulls down her panties and smacks her bare, jiggling bottom harder and harder, making sure her bouncing cheeks turn a shameful red. The hairbrush that Audrey had been playing with earlier is also used and she is soon yelping in disbelief that even grown up, it seems she is never too old to go over Mommy's knee for an old fashioned, bare bottom spanking. Audrey is sent to her room and told to go upstairs with her bare, sore bottom still on display.
Please Welcome Key Winds who makes her stunning debut at Triple A as a rebellious schoolgirl, sent to the Principal's Study for a special one to one discipline meeting. Key makes light of the situation and the fact that she can not behave in the classroom. Miss Anna has considered all the options and only a personal humiliating spanking over her lap and with Key's panties pulled down will make her think twice about misbehaving in future. The Principal has one of the hardest spanking hands in the school and doesn't hold back. First, she takes Key over her lap, then finishing with the naughty schoolgirl bent over with her bared bottom fully exposed for a final embarrassing spanking she would not forget in a hurry!
Whitney Morgan is back and this time she really has got herself into a lot of trouble. On a family roadtrip across America, Whitney's dad has allowed her full privacy and she has her own hotel room. This freedom and trust is thrown back in her father's face when he can't get hold of her in the morning and uses a spare key to discover Whitney slumped over the bed, smelling of alcohol. It was obvious she had been out partying and passed out, still in her slutty clothes from the night before! He is shocked and disgusted at her behavior. Whitney has no excuses and she is dragged over his knee for a reminder that she is never too old for a spanking! Shameful Whitney starts to sober up and is embarrassed that at her age, a bare bottom, panties down hard hand spanking is the only lesson that she still learns! Daddy hasn't had to do this for such a long time and Whitney remembers just why she tried to behave when she was younger! This was a hard spanking, leaving her bottom dark red and swollen, it is going to be a long uncomfortable car journey for Whitney attempting to sit down in the car in such a tender state!
LITTLE SISTER'S
OVERDUE SPANKING

Adriana is fed up with her younger sister, Ava, who continues to behave so immaturely at home and at school. This is starting to impact on Adriana's social life. Ava is only a year younger but acts like a small child, putting off Adriana's boyfriends. The latest BF laughed when he thought a babygirl poster hanging up in her room belonged to her (Ava had placed it there for fun). She also gets spanked for everything around the house and Ava is seen as the innocent little girl who can do no wrong. Well, enough is enough and Adriana's tolerance cracks. She takes Ava over her lap for a long overdue spanking... the type of mean punishment spanking that Mom or Dad would give her. The older sister relishes giving her younger sibling a hard hand and hairbrush spanking, which she reminds her, is always carried out on the bare bottom! So she makes this painful punishment as realistic as possible for Ava. There's no holding back, as she takes out all her recent frustrations on her younger sister's very spankable bottom that turns a shameful red very quickly! Ava is warned this won't be the last time she gets spanked so needs to grow up fast and act her age!
SPANKED AT SCHOOL
STRAPPED AT HOME

Belle had been spanked at school for yet another serious misdemeanor and her parents were informed. Mother had sent her to bed early, grounding her in her room until Daddy arrived home from work. He had already been told by the school what had happened and so once home, he summoned her downstairs to face up to the ritual of a second punishment at home. She got spanked at school, but at home, Daddy would strap her with the thick, heavy Discipline Belt. Sadly for Belle, her attitude was one of indifference to the predicament she found herself in. You'd think she would have realized that being sent to bed early while the sun was still shining brightly outside in the beautiful early evening was deterrent enough. However her attitude only incurred the wrath of her Daddy who gave her a thorough additional hard hand spanking across her tight bare bottom before using that mean leather belt. This time he did not hold back, not caring that her bottom was already sore from her school spanking. He gave her the heaviest swats with that thick, unforgiving leather belt that had her gasping and crying out in obvious pain! Witness Belle, in her cute pajamas, getting a very hard hand spanking and strapping from Daddy. Those of you who love this style of authentic domestic discipline will adore this film, it really is rather good!
Violet October makes her painful debut at Triple A Spanking in this excellent Daddy/Daughter discipline film. Violet is a girl that never seems to learn her lesson. She is always getting punished for something at home and the latest incident sees her grounded after trying to sneak out in slutty clothing that her father had highly disapproved of. She is chastised and told that this time she will get a hard caning as well as a bare bottom spanking. Daddy spanks her harder than he ever has, bringing a gasp of disbelief to her as his hand smacks her bare bottom relentlessly. Then he uses not one but two canes, including a dense smoked dragon cane that gets the point across. He uses six strokes of each cane, hard, deliberate and mean - tto see if this will get the new message across. This film also features some great facial reactions of beautiful Violet as well as an excellent close up and slower motion rear cam views of the caning so you miss nothing!
Please welcome Apricot Pitts in a stunning debut with a difference. Just look at her! She has an amazing beautiful, all natural, girl next door look that we so adore! Apricot's first film is also something we don't make that often, asking girls if they'd do a special self spanking video. She loved the idea and is so perfect for this style, as we don't want this to be a light impact film. We only ask girls who are confident that they can spank themselves hard in the absence of another! Like many spanko lifestylers, Apricot has done this often in the past without a partner to regularly spank them... so she was a natural choice! This video contains many great cam angles and amazing bonus footage, including an immersive POV style as she talks and looks directly at the camera telling you how she feels! It's a smoking hot debut with Apricot using plenty of "ouchie" implements including leather paddles and a hairbrush. Watch her flawless, bare peachy cheeks end up glowing a deep red in what we consider is one of the best self spanking films we've ever seen online! Find out for yourselves, you will not be disappointed!
Adriana was allowed to accompany her mother on a business trip. Her mom thought that her daughter deserved to enjoy a nice break in a hotel suite provided by the company she was consulting for. However, Adriana repaid that trust and kindness by creating a scene at the pool, sunbathing naked. She was sent to the suite immediately by the hotel staff and her mother had been informed by the manager of her daughter's unacceptable behavior. There will be dire consequences and what you see is a good old fashioned mother/daughter scolding followed by the spanking punishment. Once the OTK spanking begins, it is a relentless assault on Adriana's bare bottom that has her quickly squirming, struggling and in very real pain. Miss Anna (playing her mom) really does have one of the hardest female hands and this is a fantastic punishment film that aficionados of severe maternal discipline will really appreciate, played by two of our favorite people. Adriana admitted (after we made this film) that it was one of the hardest hand spankings she had received in a very long time. That should tell you all you need to know!
This is a one time opportunity to see Clare Fonda and Sarah Gregory spanking each other in the wheelbarrow position. What a debut for Clare at our site. She has never done this before... either as a top or bottom. So it is only fair that she experiences that now familiar, yet embarrassing, position that we have pioneered over the years! Clare is spanked with her panties on to start with (to help protect her modesty) but that doesn't last long and you will see Sarah spanking and grabbing Clare's bare exposed bottom in this most revealing of spanking positions. Then it is Sarah's turn... she isn't shy but is excited that Clare gets to be her first test subject in this position. Sarah enjoys the feel of Clare's hand as she is spanked, panties first, then on the bare and fully exposed in this naughtiest of OTK spankings! This is a hot, exclusive double wheelbarrow spanking which is bound to be one of our most popular in this genre.
This is a stunning "double first" for Triple A Spanking. Chrissy Marie makes her debut as a smitten schoolgirl besotted with her sexy Principal, played by beautiful Christina Carter (in her first role as a "Top" at our site). Chrissy is called in from her gym class over a highly inappropriate note that she had written about Miss Carter's breasts! She is not amused at all and is infuriated by Chrissy's smirks and giggles as she is told she will be punished there and then! Chrissy appears to enjoy the attention of her principal's hand smacking her bottom (first over her panties and then with them removed). When Miss Carter realizes what is happening she is horrified and uses a stinging leather strap which is far more effective and painful in holding Chrissy's attention to the gravity of the situation. Christina and Chrissy made an awesome pairing and we at Triple A feel that we are very lucky to be able to film this for you, thanks to the recent Fetishcon 2017 event.
Mackenzie is in big trouble this time. Her Detention Punishment will not be pleasant, not after what she had been caught doing. The Punishment is held in the classroom where she committed her many acts of vandalism on the school's old maps in the Geography Room. She wrote over many towns and cities globally (including Mr Osborne's hometown from his native England) with newer "derogatory" names. Mackenzie's immaturity would mean a long hard discipline session with Mr Osborne who took her defacement of the maps personally! He tawses her hands at first, as a lesson that she should not deface school property. This theme is repeated with a very tearful Mackenzie made to repeat these words as she is spanked with her regulation navy panties and white gusset showing. This is followed by a hard leather strapping which has her crying almost uncontrollably but Mr Osborne isn't finished with this tearful schoolgirl yet. She is already feeling ashamed and humiliated and he saves his best to last with a severe caning. This reinforces the important lesson of the day not to deface school property! Mackenzie's tears are real and for those who enjoy authentic hard discipline of schoolgirls in believable settings, you really should not miss this one!
Sarah Gregory is so upset with Elle for cheating on her that for them to remain a couple she must show that she is sorry and submit to any form of punishment Sarah deems necessary. Elle has already been caned and she didn't seem to mind that, so Sarah knows exactly what to do next! Perhaps a little humiliation and embarrassment would help focus Elle on her poor behavior? So Elle is placed in the wheelbarrow position, the most submissive and tear jerking position that Sarah knows for her cheating girlfriend! Elle's panties are ripped off and her bare exposed parts are on full display as Sarah uses her hand and the bathbrush to really get the point home. This video has multiple angles which has never been filmed like this before anywhere on The Internet and the sight of beautiful green eyed Elle taking one of her most humiliating punishments to date is not to be missed!
Ten Amorette stars in this latest schoolgirl spanking movie. She is about to receive a very hard, humiliating hand spanking and leather strapping. Her stepdad, John Osborne, was called to come pick her up from the school educational trip and take her home from where they were all staying overnight. This was a 300 mile round trip for him and he was angry that she had let down her school, herself, her mother and himself. She wouldn't admit to her behavior at first (but those who will view the full film are able to find out what she did to warrant sending her home immediately). Stepdad had brought with him a leather strap that they used at home and he wastes no time telling her she is going to get a hard spanking and strapping to make the journey home as uncomfortable as possible for her! Ten is embarrassed that he is spanking her on her bare bottom, her panties pulled down whilst still in her school uniform. Spanking her over his lap is just the start as he finishes with a relentless strapping of her sore red bottom, bared and bending over. She takes her punishment, close to tears and when he knows she is feeling totally humiliated... tells her to get ready for the long ride home. Just wait until her mother finds out!
Rosie helps out at the horse stables of her mother's best friend, Jadie Reece. She has a reputation for being a strict disciplinarian. Rosie secretly fantasizes that she would get punished by her and decides to see if Jadie's reputation is real or not! Instead of preparing Jadie's favorite pony she still has the saddle indoors and pretends that she is riding a pony! It's not long before an irritated Jadie catches Rosie in the act. Not only is the saddle not ready but she took her favorite riding crop and hat that she had been looking for. Jadie's tone changes, "this is it!" Rosie thinks... she can barely speak, her throat is dry and her heart racing as Jadie scolds her, promising discipline there and then. Rosie is spanked still "riding" the saddle, her tight jodhpurs stretched allowing Jadie's hard hand to smack her throbbing bottom! Rosie's head races with mixed emotions; fear, excitement, trepidation... her head is buzzing and barely hears the order to pull down her jodhpurs for a bare bottom spanking. She fumbles with the buttons... and trembling, does as she is told! With her bottom in the air, Rosie complies silently offering up her bared cheeks to the riding crop and a stinging leather paddle that Jadie kept for the stable boys! Now this paddle has a new victim. Rosie's bottom is red and visibly swollen at the end of this punishment. Jadie leaves her to compose herself and reflect on what had just happened, reminding the young girl that she still had a job to do. Get the pony ready for the morning ride!