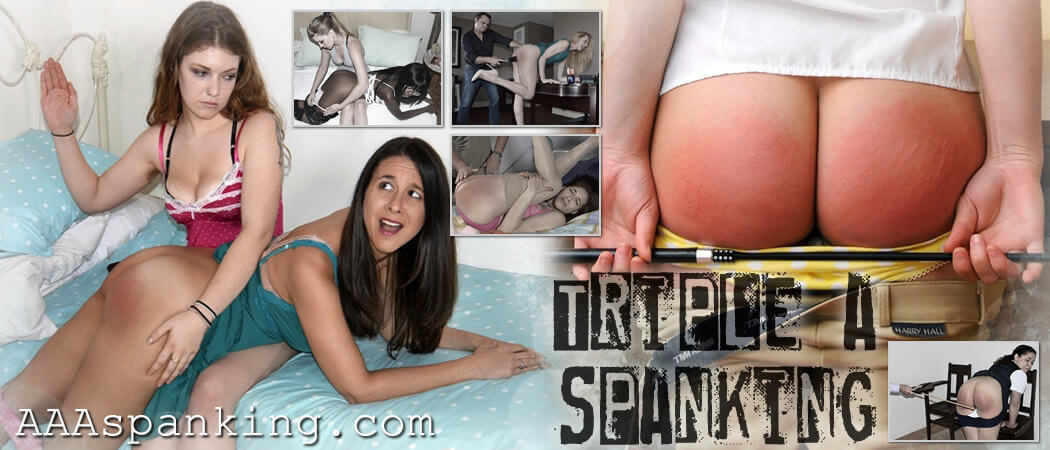 Elori Stix makes her debut for us in a special daddy/daughter spanking and caning film. There will be a prequel to this film where those who prefer to see F/F only style punishments will be able to watch her getting spanked with the hairbrush at Momma Spankings sometime soon. But today, you'll see daddy deal with the aftermath of what happens to naughty girls who defy their parents. If Elori is spanked by mother, she gets spanked by father too... that's how it works in this house. However, this has become a habit with their daughter so this time she will get a caning for the very first time as well as a bare bottom spanking over her father's lap. Elori is very nervous. She is scolded about wasting her parents money on music lessons with so many various instruments (to better herself in life) and never achieving much. Well, now this stops! Elori's cheeks soon turn a shameful burining red after her daddy smacks them hard revealing her earlier punishment. He doesn't hold back for her first caning; it is mean, calculating and designed to cause maximum impact. She receives 18 severe strokes of his dense, thuddy Dragon Cane with the last stroke being the nastiest to remind Elori that her continuing poor attitude will not be tolerated in the future!
Witness the sensual and very sexual side of Sarah Gregory as Miss Bernadette not only spanks her in the wheelbarrow position, but Sarah is aware that she is going to be butt plugged as well! She is apprehensive and excited at the same time. This video features amazing multiple camera angles and this spanking film doesn't miss a thing! You'll see Sarah's reactions, her embarrassment and growing excitement as this spanking is also turning her on. You'll see up close and personal as her pussy glistens and Miss Bernadette spanks this too in that most delicious, vulnerable position. Add some implements to grab Sarah's attention, such as a leather paddle and hairbrush, then there is the slow deliberate plugging. When it is inserted, her bottom can feel the cold metal as she has no choice but to hold it as she is spanked further. Her pussy is again exposed some more to reveal that she is secretly loving this spanking despite her feeble protestations! If you only ever want to view one sexually provocative wheelbarrow style spanking film between two women, this one has to be your choice. This is seriously hot!
It had been some time since Anna and John had spent some quality time together so when it came to their playtime, John was upset to discover that Anna had been keeping a secret from him. "You've been seeing him again, haven't you?" He could see the marks of a recent beating. Anna was so apologetic but John was incensed that she was keeping secrets like this. So he quickly dragged her over his lap and started to give her a hard hand spanking. Anna was already in her sexy lingerie and her long legs kicked as she struggled to take his angry spanking. This was just the start as he loved to use his favorite leather implements, a Reformatory Strap and thick, stiff gunbelt. However, there was to be no sensual spankings, just heavy licks of leather, reddening and marking her full round cheeks. John also knew that a hard discipline session turned them both on so by now he was past caring how he felt about her secrets and he used the heaviest, meanest bath brush at his disposal. This was a mean session with the brush that had her fighting back tears but John saved his best to last! Anna, was ordered to remove her bra, now naked... her full round breasts glistened as the adrenalin coursed through her body as it was time for her caning! Anna positioned herself over the bed for some of the meanest strokes she had ever received. With this over, John wanted to comfort Anna and provide the aftercare she needed. This was such a hot, mean spanking session so he used lots of soothing Arnica lotion, gently rubbing into her sore skin, with equally soothing words in her ear, tender cuddles, hugs and gentle kisses to remind her how much she meant to him. Don't miss this long play, very grown up domestic spanking video between real life play partners!
Harley has been punished at school and is well aware of how her evening will be spent at home. She knows that her mother will have been informed and she also knows the "House Rules" that she should be waiting in her mother's bedroom, already dressed in her pajamas for bedtime. As a spanking at school equals at least another spanking at home! So we see Harley waiting nervously for her mother to return and it is not long after hearing the door opened downstairs, followed by the angry steps of mom stomping upstairs to the bedroom. Harley is so sorry and embarrassed but no amount of pleading with Mom is going to stop her getting another spanking over her mommy's lap. There is also a surprise for her, a nasty wooden hairbrush that needs to be used on a naughty girl's bare backside. So Harley is spanked and scolded, as only her mother knows how, before her PJ bottoms and then her tight cotton panties are removed for the final part of this humiliating discipline. Mom's hard hand and the hairbrush are used with force and a meaness that Harley had not felt before and it soon has her sobbing uncontrollably. A spanking at school always means a spanking at home! Mother comforts her crumpled crying girl in her arms as Harley promises to try to be better behaved in the future.
Zoe Page and Sarah Gregory are on a summer vacation in Spain with their partners enjoying a relaxing day by the pool at their rented Villa. As usual, with this naughty pair, they had been warned about sunbathing topless as that broke one of the rental property's rules but once the Sangria & Cava flows, these young ladies choose to ignore this selfishly. Life is one big happy joke for these girls, where they never fear the consequences of their actions... that is until their partners John and Michael arrive back from a trip into the nearby village for provisions. They are irritated and unimpressed as the girls giggle and answer back until they get what we all know they deserve! A damned good spanking outdoors right there under the blazing sun! Their bottoms are bared and tanned where the sun wouldn't normally reach, as their men use their hands to smack and spank those pale, perky cheeks a shameful red very quickly. It's not over for the girls as they continue to remain sassy so they are told to swap places as John spanks Zoe over his lap and Michael positions a reluctant Sarah into having her bottom stuck out in an inviting and vulnerable way. They then continue to discipline and spank the girls who miraculously become far more contrite now, embarrassed that they are being spanked in front of each other by their men. The girls bottoms are now looking suitably punished and very sore. They will be a little more respectful of the Villa's rules in future! This is a very hot debut of Zoe and Sarah spanked by their real life partners. Do not miss this wonderful outdoor spanking film.
Belle has been caught defacing the Bible by the Sunday School teacher, Mrs James, who is so shocked that both her father and Reverend Wackford are called to address this most awful situation of blasphemous grafitti and defilement. It is too shocking to mention but suffice to say that Belle is severely reprimanded and scolded before her father spanks her over his lap in front of a watching Mrs James and the good Reverend. She is embarrassed and as her panties are pulled down and her bare bottom spanked harder! Reverend Wackford is waiting with his Strap of Redemption and Belle is given 12 hard strokes to remind her that this disgusting behavior will never be repeated again! This is a great film for lovers of Catholic Discipline themed spankings.
This is the first in a new series of "Bratty Stepdaughter Punishments" - where tensions run high between a new stepmother and her inheritated unruly daughter who is very resentful. We also have a double debut featuring Miss Bernadette and Quinn, who are polar opposites which makes for a very fractious relationship. Quinn doesn't like her new mother one little bit and runs into trouble often with her for keeping a filthy room, something Bernadette abhors! This time she has an additional surprise, a new tattoo which her new mother is appalled by. It's not long before Quinn is taken over Bernadette's lap for yet another reminder of who is in charge as this brat struggles and makes life difficult as she is being spanked. She is smacked harder and harder until her bare bottom is exposed and Quinn's embarrassment is obvious but still she continues to defy her stepmother. So this time, Quinn is made to fetch the bathbrush, a nasty corrective implement that really teaches her a lesson in obedience. Her bottom turns an angry red as the bathbrush hits her cheeks with unnerving accuracy that gets the message home. A tearful, sobbing Quinn is left to reflect on her poor behavior safe in the knowledge that she can expect more of the same punishment in the future if she continues to be a silly little girl!
Witness what happens to a foul mouthed and very disrespectful step daughter, Nuna Starks, when her daddy decides that she needs a thorough punishment that includes a long sustained OTK spanking with his hand, a leather paddle and a hairbrush. Of course, she is spanked on her bare bouncing cheeks and is spanked to tears. No amount of remorse will stop him from carrying out the rest of her punishment, however... and Nuna knows that. She receives her first ever mouthsoaping for using such vile words and even though it is her first time, he is not kind or gentle. The suds are well and truly tasted as she is made to bite down and savor the awful cleansing taste of the soap bar that gets everywhere in her mouth, her tongue and stuck in her teeth. By now, Nuna is crying again, and with a shamed, more contrite, tear stained face, the last part of this unique discipline begins. She bends over the bathroom sink, sobbing as her bottom is stuck out, bare, exposed and inviting for the hard cane strokes that follow. This caning leaves visible welts on her precious behind! It is one punishment Nuna will not forget in a hurry!
This is a very special film featuring two stunning girls from Las Vegas. It is also a "double first" for both girls as Veronica Weston, a lifestyle spanko, had never been placed in the wheelbarrow position and spanked... and certainly not by a gorgeous lady. Her spanker in this scene is Violet October, in her first ever appearance as a top in any spanking video, and what a fabulous debut these girls make together! Veronica is splayed and open over Violet's lap, her delicious booty exposed and waiting for Violet's sensual hands to caress and slap her bottom. Veronica is visibly excited as her most private parts are vulnerable to Violet's every touch. Hard hand spankings are followed by lighter soothing touches with the final scenes of her leather paddling filmed in various intimate and interesting angles making this one of the sexiest wheelbarrow spanking films we have ever made. Miss this one at your peril!
Belle has been sent to her room and grounded for several weeks after her latest punishment at school. So when her father catches her trying to steal his whisky to take to her room, he is upset and disappointed that she is obviously not learning her lesson. Stealing is frowned upon in this family and she is told to bend over the table and take another spanking right there and then. Belle's panties offer little protection from daddy's hard hand and when he is certain she is showing little respect for property, he pulls them down as she protests but Belle is in no position to argue. Worse is to follow as Belle rebels and so she is placed on the table and strapped, both flat down and with her pert bottom stuck in the air. Finally, with the embarrassing strapping and spanking from daddy, Belle admits she is wrong and accepts the house rules on her being grounded. Belle learns not to steal at home and respect authority.
Luci Lovett is one of the worst behaved girls at school and is constantly getting spanked in class or during detention. So when she approached the school nurse (who was relaxing in the common room during lunchbreak) claiming to have tummy-ache, and wanting to go home; this request was met with much derision. The school nurse (Madame Samantha B) decided to take Luci's temperature the old fashioned way, by placing the thermometer up her bottom! The nurse knew full well that there was an important examination later that day in Luci's Year so decided to teach this faker a lesson. She made Luci wipe her own bottom before sticking the lubed thermometer where the sun never shines, and lo and behold, her temperature was normal! With her bottom already stuck out, nurse Samantha spanked the girl, scolding her for telling lies to get out of a test! Then Luci was placed over the nurse's lap and the spankings continued with her hard hand and a leather paddle which really stung, making Luci's bottom a very shameful red! The nurse informed Luci that she then had to go take that test and she would pass... or else! Luci learnt a valuable lesson in not using the school nurse to get out of a test that she had not prepared properly for.
A huge successful spanking party event is over and John is left behind to help clear everything up while Amelia and Sarah hurry back to their rented apartment to continue playing with each other. Both are naked and enjoying this private moment, as Sarah admits it is a naughty but very nice feeling to be spanked over Amelia's lap. They had also intended to play with a multitude of leather straps but that is over when John arrives back to see what they are selfishly doing. They ran away to play! Sarah is being sassy and he sends her to their room as it is Amelia that needs some corrective reminders about the price she would pay for their wanton play! A much harder hand spanking is given to Amelia as the weekend's play becomes all too visible and all those straps that he saw strewn over the apartment are also used, meticulously, across her bare sore behind! Amelia is yelping and her long legs flail as the leather stings her already aching sore bottom. There's an unpleasant price to pay for this type of behavior as Amelia finds out the hard way!
Please welcome another super gorgeous newcomer to Triple A - this week it is the turn of stunning Kate Kenzie. She is John's realtor and she has done a lot of real estate business with him, this is the latest viewing that she is personally accompanying him on. However, Kate is far more interested in the fat commission that this overpriced apartment will get her if he takes it and John knows what she is trying to do! She is reminded of the last time she tried to behave this way, she got a spanking and he reminds her that if she wants his continued business then she will take another spanking! She doesn't put up much of a fight... hell, Kate isn't even wearing panties underneath that tight, black sexy figure hugging dress! She is such a hot thing one wonders if she deliberately wanted a spanking. Kate has such a beautiful pert spankable bottom that it is just begging for a male hand to turn it a stunning shade of shameful red! Kate Kenzie is sure to become another favorite at our site and watching her get a spanking we know you will love her too!
This is a very special debut film made for Triple A in collaboration with Worst Behavior Productions starring two of the hottest girls in the adult industry right now, Jill Kassidy & newcomer, Britney Light. A special mention should also go out to ATP Dave for being the "Daddy" in this hot spanking video. Jill invites Britney over to her place and this video starts straight in with the girls fondling, groping and caressing each others naked bodies as they take turns to spank each other on the sofa. There's lots of hot sexy impact play to watch before they are caught by Jill's daddy. If they enjoy improper play like this then he will teach them both a lesson and takes each girl over his lap giving them a sensual spanking with a firm hand. Both girls are already so turned on that they can't help but get off to this spanking as his hands soothe and sting their bare, exposed bottoms whilst gently scolding them both. Poor Daddy!
Nuna Starks makes a welcome return to Triple A, although in this scenario, opposite the fearsome maternal figure of Miss Elizabeth, maybe she regretted this appearance! Nuna has been nothing but disrespectful to her new stepmother. Away from her father's doting eyes she has been mean, spiteful and deliberately causing confrontation. Miss Elizabeth has had enough and in this showdown before bedtime, Nuna is about to discover her stepmom is not someone to be messed with! After a scolding about the hurtful behavior, Nuna is placed over her stepmother's lap and spanked, whilst still being scolded. She is rebellious and fails to understand the hurt this causes her father and new mother. A further harder bare bottom hand spanking starts to get through to Nuna. However, when the dreaded bath brush is used, this wooden implement really does teach a painful... very painful and tearful lesson about poor attitude. Nuna is struggling, kicking and crying as the brush does its worst. Nuna is comforted at the end, sniffling and quietly sobbing as her new stepmom wants her to understand that she only has the best intentions for her father and for her! If you are into real maternal discipline scenarios, then this is one film you really need to watch!
Jessica Jensen is a retired British Porn star and we filmed her way back in 2012 when she was fresh to the scene and winning awards as Best Newcomer in the UK. Only 20 years old at the time, she really was unable to take any punishment spankings so after a few harder scenes she could only take a light, sensual spanking. In order to warm up, she filmed a hot solo masturbation scene - only available at our clip store - as you're here for the spankings, right? She was still glowing from her recent orgasm and she turned over to reveal a perfectly rounded bottom with clear evidence of her recent spankings. Her sore, speckled cheeks were indeed a sight for sore eyes! This is an erotic and sensual spanking film, with bottom rubbing to soothe her pain with a few harder slaps to keep her from thinking about another orgasm. One thing is for sure, Jessica was not a shy girl and you will see her pert bottom and tight pussy on full display, all beautifully presented. It is a little different from our more traditional films but this is an additional new film update - so we do hope you enjoy this short, erotic spanking video which comes with a set of stills images and extensive video image gallery.
Another new girl, Raven Mackenzie, makes her debut at Triple A Spanking. Raven's first film is a familiar theme but with the added bonus of seeing her in a ridiculously cute Girl Scout uniform. She was sent home from the Scouts after being punished, this wasn't her first of this day, she had been spanked earlier at school as well. Raven knows the rules and is grounded and sent, without her phone or laptop, to wait in her bedroom dressed in her pajamas ready for bed. By the time daddy gets home, he will have known that she got a spanking at school and at Girl Scouts. Two spankings and the house rule is a spanking at school is a spanking at home. Raven has been waiting so long upstairs and was so bored without any social media that she had started touching herself down there to pass the time. What a naughty girl! Her Daddy is very angry that she isn't learning her lesson and is upset that she isn't even out of the scout's uniform. She is scolded and reminded what happens, but this time she will get a humiliating bare bottom hand spanking and dozens of licks with his heavy leather belt for the two punishments she received earlier. Watch beautiful Raven take this hard spanking and belting punishment, it's a wonderful introduction to a girl we know you will want to see much more of!
Mackenzie is a hard working employee but she gets frustrated with others who are unable to keep up with her schedule and has created a lot of animosity among her fellow co-wporkers. This has come to the attention of HR manager, Stevie Rose, who has a special, trusted method of dealing with this type of delicate situation. Mackenzie is a valued employee but her attitude is appalling. Rather than let her go, Ms Rose decides to give an off the record "Disciplinary". That means it is done the old fashioned way, with Corporal Punishment! Mackenzie knows she has been difficult and takes the punishment to keep her job and learn from her mistakes. She is spanked over Ms Rose's lap, her tight pantyhose unable to hide a growing red marked bottom from a hand spanking. She is then spanked over her panties and on the bare bottom which she find embarrassing but worse is to come. A paddling over her manager's lap with a mean wooden implement is followed by her bent over, pantyhose and panties fully removed with her bottom bare and exposed for a double leather strapping that has her gasping in shock and pain. Then Ms Rose lets Mackenzie struggle back into her pantyhose, letting her know that she is watching how she deals with her freshly spanked sore red bottom. It's embarrassing and humiliating, something Mackenzie will want to avoid again if she ever faces another "In House Discipline".
Another week and another fantastic new girl at Triple A Spanking. This is an excellent schoolgirl punishment video that you shouldn't miss for the scoldings, the authentic school uniform and of course Alice's reactions to her spanking and caning. She eventually receives 12 hard strokes of Headmaster's Dragon Cane (these really hurt) after he loses patience with her continued poor attitude during his showdown meeting with her. Alice ihas been continually punished by the teaching staff and himself for the last 3 months. This meeting will be the last as she is so close to being expelled. This is a serious punishment and depending on how she reacts to him in this meeting, including how Alice takes her severe caning will determine whether he signs the expulsion papers placed in front of her - or not!
Another cute new brat makes her debut this week at Triple A Spanking so please welcome Daizy Cooper. This feisty, ebony beauty makes for a terrible roomie as Harley Havik soon discovers in this all girl spanking video. One thing Daizy forgets is NOT to cross Harley, she has a terrible temper and a very hard hand... as this naughty brat soon finds out. Harley confronts her roommate about cheating with her lousy boyfriend and Daizy shows little remorse, laughing at Harley's obvious anguish. In no time at all, Harley pulls giggling Daizy over her lap and attempts to spank the smirk from her face. The message finally gets across when Harley spanks her harder and harder on her bare and evidently sore bottom. This is a hot all girl spanking film which features the mean hand of Harley and the jiggling, round cheeks of Daizy's booty! Foot lovers will also enjoy the spanking scenes as you will get to see plenty of Harley's bare soles and toes with lots of leg kicking from Daizy showing off her sexy tight black socks!