If you know Sarah Gregory at all, then you will be aware that she loves nothing better than to brat! Her partner, John, isn't one for this sort of behavior, in fact he makes it known that he can't handle brats that well! So when they decided to do a domestic spanking film, Sarah wanted to test him and see how much bratting she could get away with. To be fair, John puts up with a lot as Sarah does what she does best! In fact she is so adorably cute that even John finds her behavior amusing at times but eventually the fun stops and he slowly gets his way when her bottom reddens beautifully under his hand. Sarah's perfect round cheeks are given a sound hairbrush spanking as she yelps and kicks out in a lot of pain! This is an awesome spanking film with some great interaction between this real life couple!
Warning: This is an intense "Mommy/Daughter" hard hand and hairbrush spanking with a finale only foul mouthed young ladies deserve. Ten Amorette is on the receiving end of a long, tearful and brutal mouthsoaping that she will not forget in a hurry. Mom (played by Miss Anna) takes her daughter over her lap for an overdue spanking with the continual disrespect and poor attitude capped by that filthy mouth of hers. When Ten swears and cusses further, Mommy takes her to the bathroom for another spanking whilst reminding her to take a look in the mirror at herself during the punishment. Ten shows no remorse and swears some more forcing Mommy to take the bar of soap, froth it up and make her daughter taste that awful sudsy, cleansing soap bar deep inside her mouth whilst being scolded. Ten finally learns her lesson after several cleansing sessions, her face and mouth a soapy, shameful mess. She will think twice about swearing in front of her mother in the future!
Fitness and Lifestyle Coach, Lily Swan, has been feeling sorry for herself by eating junk food instead of her usual strict dietary regimen that she teaches others. John catches her putting away more candy when she told him she was working out. He knows how to bring her to her senses. It worked before and it will work again, a good old fashioned spanking. To ensure she learns her lesson this time, he tells her this discipline session will be much more humiliating and painful! Lily is spanked over her tight yoga pants as she squirms and wriggles over his lap before they are pulled down for a far harder and more embarrassing bare bottom hand spanking. Then he makes her hold the chocolate in her mouth, that she was eating previously, during the punishment to add to her embarrassment. However, this is nothing compared to the heavy leather strapping and caning she receives next! Her tight, toned sore bottom burns with shame and the sting of his dragon cane on her buttocks is made even more unbearable when she is caned severely in the Plank position. See Lily Swan in another hot video punishment from our special "Exercise and Discipline" series.
Please welcome another new girl to AAA, Rachel Adams. Rachel is one of those annoying girls that never seems to learn her lesson, unless you have to resort to a more severe punishment solution. Her roommate, Harley, has had to deal with a lot of nonsense over the past few months and has coped with Rachel's shoddy behavior the only way she knows works and that is a good hard spanking. This latest example of leaving their apartment in a real mess after a party really annoys Harley as she had spanked her hard recently for something else. Submissive Rachel knows she is wrong and tears well up in her eyes as she takes her position over her stern roomie's lap. Harley spanks her hard and with conviction on a sobbing Rachel's bare bottom but this time she will get the dreaded hairbrush too! Rachel really hates this punishment and is leg locked to prevent her from kicking and bucking as the hairbrush repeatedly hits it mark! At the end, her bottom is a swollen bruised mess and tears are streaming down her face as a very sorry Rachel promises Harley she will do much better next time.
This is one of a few very rare M/F spanking films featuring Clare Fonda from the network that proudly boasts her name! Clare (aka Jamie Foster) is a well known cougar, preying on younger men and you can catch up with her naughty shenanigans HERE - in this video she has to work for her old friend, John, but is really not office type material. Instead she yearns to get off early to catch the "Happy Hours" at her favorite hunting grounds. Clare takes a wicked spanking from John, who delights in using this chance to give this feisty cougar what she deserves. A long spanking over her pantyhose is followed by a harder man-spanking on her bare bottom before she is given a sound brush punishment with a trusted old friend of hers, the "Mason Pearson" hairbrush. She isn't a fan of sting... and knows exactly what it feels like having used it on so many girls in the past! Great chemistry, great spanking action, great facial reactions and of course Clare's infamous wit makes this a must see film for the Holidays!
Melody Nore just can't help getting herself into trouble. Her father knows all about the latest incident at school and is sick of hearing her excuses. From now on she gets double punishments and he has nothing to say to her. This is even worse for Melody, trying to apologize and say how sorry she is, as he doesn't want to discuss anything further with her. Instead, she gets one heck of a hand spanking over his lap. This is one of the hardest hand spankings Melody receives as she is first spanked over her tight jeans, then her colorful panties before the embarrassing, bare bottom smacking by her daddy over his lap. He is far from fiinished as there are 2 leather implements on the sofa, a heavy paddle and the Reformatory Strap. He uses the paddle whilst she is still across his lap then the final part is a full force, no holds barred, strapping which has her crying out in real pain! Saying "Sorry" just isn't good enough this time, and Melody learns this the hard way!
Sarah's out of control shopping habits have got too much for her girlfriend, Apricot, who discovers that she is still buying more stuff when she promised that she would curb her spending. She used coupons for a special offer by using Apricot's email account and printing them off, only she forgot that the emails also went directly to Apricot's cell phone! Sarah gets a spanking over her panties for this before Apricot pulls them down for a harder hand smacking followed by a stinging leather paddle.
Working in a hospital style care home, nurses like young Amber West should know better when it comes to wearing revealing and scantilly clad clothing. Improper uniform attire has had the blood pressure of the older gentlemen shooting through the roof. The resident Doctor summons her to his office, annoyed at the extra work she is causing with her obvious uniform distractions. He sees for himself just how inappropriately she is "dressed" and scolds her, reminding the ditzy nurse that this sort of behavior is far from acceptable. The Doc shows how he deals with the nursing staff and she remembers this all too well. He gives her a spanking across his lap, and can see that her panties are easily on full display. They are quickly removed so that he can continue to spank her bare bottom and you will see her cheeks turn red with shame and embarrassment. Amber learns that she must think about what she wears to work in future, and that means the correct uniform. Rules are made for a good reason and the consquences for breaking them are made obvious to her. No more skimpy uniform attire!
Young Cassy is quickly establishing herself as a real sassy brat in the online community. She is able to give as much as she takes with her friends from the Seattle scene. So let's see what happens when Cassy interrupts John, hoping that her sexy appearance will persuade him to drop everything and take them out for a nice evening when she knows he has a lot of work to do. After all, what Cassy wants, she gets... right? She uses her beauty and natural sassy attitude trying to convince him they should go out right then and there but it doesn't work and earns her a spanking instead. Maybe that's what she wanted all along as she smirks when he takes her across his lap. Cassy can take quite a hard spanking and this is one of those times so her panties are pulled down and he continues with the punishment only she is enjoying this too much. John produces 2 leather straps, one thuddy and one that she really hates, the stinging Compliance Discipline Strap. The strappings are carried out with a relentless passion as Cassy takes it all, even enduring a few swats of the hatred Compliance Discipline Strap to really grab her attention. Watch this debut at AAA of a beautiful 20 year old girl taking one heck of a spanking and strapping possessing one of the cutest bottoms you'll ever see bared and punished!
This is another excellent film in our School Detention Punishment series and this time it is a special "Double Detention" for Nuna Starks (making her first appearance at Triple A) and Mackenzie Reed. They have been told to report to the school's punishment room where they will be disciplined after school. This is no ordinary detention, as these girls are a whisker away from being expelled, this is their final punishment and it will count! The girls are nervous, and are fully aware of how much trouble they are in but didn't expect such a harsh and humiliating session as this one! Kenzie is taken over Sir's lap and given a spanking on her crisp white panties, whilst Nuna is told to watch. The girls swap and it is Nuna's turn. the tension builds as Kenzie goes over his lap for a panties down, bare bottom spanking. This is repeated for Nuna, who kicks and squeals as the spanking starts to really hurt. Then they are told in turn to take turns at kneeling on the bench as the other girl watches the Reformatory Leather Strapping of the other. It is hard and mean, and poor Kenzie quickly loses count in between the floods of tears. Nuna can see the obvious anguish of her fellow conspirator and learns to concentrate on keeping count of 12 hard swats of leather. The final installment is unexpected as the girls are given a blistering caning, but they have to hold each other's hands and look into the eyes of the other across a table. This is deeply personal and so humiliating that it brings yet more tears to both girls! It is a tearful detention punishment that these young ladies will not forget, which is the whole point as this is their final chance to remain in school! So it is hoped that this will remind the girls just how serious it really is!
Audrey has been hiding from her mother where and how she works at an underground club and that this is her main source of income. She knows if her mother ever found out it would be hugely embarrassing! So it had to happen eventually that she would get found out... and this is where we find Audrey sneaking in late only to discover her mom is still up and awake downstairs (reading a book). Busted! Miss Elizabeth is shocked and upset at her daughter's slutty appearance and quickly finds out exactly how she earns her money in a kinky underground club called Destiny's Chamber - Hearing how Audrey spanks and gets spanked at this club, she decides to dish out some punishments of her own for having such a deceitful daughter. After a long scolding, Audrey is taken across Mom's lap and it is all rather embarrassing for her grown up girl, exactly what mother wanted! It gets worse for Audrey, as Mom pulls down her panties and smacks her bare, jiggling bottom harder and harder, making sure her bouncing cheeks turn a shameful red. The hairbrush that Audrey had been playing with earlier is also used and she is soon yelping in disbelief that even grown up, it seems she is never too old to go over Mommy's knee for an old fashioned, bare bottom spanking. Audrey is sent to her room and told to go upstairs with her bare, sore bottom still on display.
Please Welcome Key Winds who makes her stunning debut at Triple A as a rebellious schoolgirl, sent to the Principal's Study for a special one to one discipline meeting. Key makes light of the situation and the fact that she can not behave in the classroom. Miss Anna has considered all the options and only a personal humiliating spanking over her lap and with Key's panties pulled down will make her think twice about misbehaving in future. The Principal has one of the hardest spanking hands in the school and doesn't hold back. First, she takes Key over her lap, then finishing with the naughty schoolgirl bent over with her bared bottom fully exposed for a final embarrassing spanking she would not forget in a hurry!
Whitney Morgan is back and this time she really has got herself into a lot of trouble. On a family roadtrip across America, Whitney's dad has allowed her full privacy and she has her own hotel room. This freedom and trust is thrown back in her father's face when he can't get hold of her in the morning and uses a spare key to discover Whitney slumped over the bed, smelling of alcohol. It was obvious she had been out partying and passed out, still in her slutty clothes from the night before! He is shocked and disgusted at her behavior. Whitney has no excuses and she is dragged over his knee for a reminder that she is never too old for a spanking! Shameful Whitney starts to sober up and is embarrassed that at her age, a bare bottom, panties down hard hand spanking is the only lesson that she still learns! Daddy hasn't had to do this for such a long time and Whitney remembers just why she tried to behave when she was younger! This was a hard spanking, leaving her bottom dark red and swollen, it is going to be a long uncomfortable car journey for Whitney attempting to sit down in the car in such a tender state!
LITTLE SISTER'S
OVERDUE SPANKING

Adriana is fed up with her younger sister, Ava, who continues to behave so immaturely at home and at school. This is starting to impact on Adriana's social life. Ava is only a year younger but acts like a small child, putting off Adriana's boyfriends. The latest BF laughed when he thought a babygirl poster hanging up in her room belonged to her (Ava had placed it there for fun). She also gets spanked for everything around the house and Ava is seen as the innocent little girl who can do no wrong. Well, enough is enough and Adriana's tolerance cracks. She takes Ava over her lap for a long overdue spanking... the type of mean punishment spanking that Mom or Dad would give her. The older sister relishes giving her younger sibling a hard hand and hairbrush spanking, which she reminds her, is always carried out on the bare bottom! So she makes this painful punishment as realistic as possible for Ava. There's no holding back, as she takes out all her recent frustrations on her younger sister's very spankable bottom that turns a shameful red very quickly! Ava is warned this won't be the last time she gets spanked so needs to grow up fast and act her age!
Tour Pages at a glance 01 02 03 04 05 06 07 08 09 10 11 12 13 14 15 16 17 >
Want to become a model with us? CLICK HERE FOR FULL INFORMATION
Other sites in the SG Network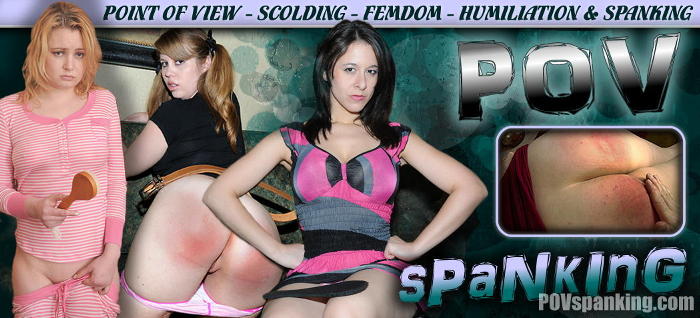 All content produced & owned by SG Group trading as "AAA Spanking - Triple A Spanking" is copyright protected
Content sharing and password trading is contrary to our rights protected by the DMCA 1998
We make every effort to prosecute & stop those infringing our protected copyrighted content worldwide
Free Spanking Blog | We Sell DVDs | CCBill Customer Support | Other Support Queries | Webmasters | Our Clips Store | POV | Specialist Downloads | Links
18 U.S.C. 2257 Record Keeping Requirements Compliance Statement
© 2018 SG Group t/a Triple A Spanking - AAAspanking.com