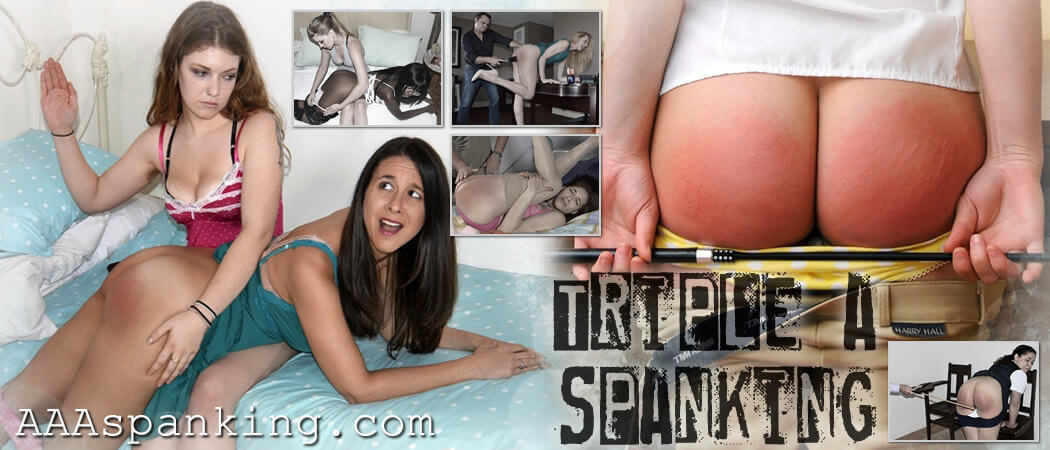 Amber Dawn makes her debut at Triple A Spanking, the first time she has helped participate in a spanking production outside of her own network of websites at amberdawnxxx.com - We were honored to finally meet her after being a huge fan of her work since she first started online over 10 years ago! This first film we are showing is also rather special as it features Amber taken to a tearful limit, something we had not expected but it shows what a true lifestyler she really is. Amber is a beautiful redhead, smartly dressed and looking to impress her Parole Officer for a special meeting he has called privately at his place as he is trying to help her avoid jailtime after her latest parole violation. She accepts his harsh punishment as a final chance to remain free. What you will see is a hard tearful spanking, with Amber looking incredibly sexy in her stockings, laid out over his lap. Her bubble butt is spanked over her delicate panties then bared and reddened with his hand. The next part of her punishment is with her laid out on the sofa, her already sore red bottom is given a wicked strapping with 2 leather implements which bring tears to her eyes. For the final part of this unique punishment, Amber is reminded and scolded about the consequences of breaking her parole violations again, then given several hard strokes of the rattan cane which brings total contrition. You'll see her tears and that this punishment is actually an emotional spanking film we are sure you will all appreciate from a special debut appearance from one of our long time spanking crushes, Amber Dawn!
Elder sister Veronica persuades Violet to go out and party without their mother's knowledge. Mom had taken them both to Las Vegas as a treat, staying in a nice Strip Hotel suite whilst she is on a business trip. Mom hears the girls trying to leave on the second night and is shocked at their behavior, especially Veronica who is trying to hide evidence of meeting with strange boys on her cellphone. Mom gets to the truth when she reads the texts from a boy Veronica had only just met. The girls sassy attitude and poor behavior infuriates Mom further so she decides to spank and punish them both. She knows exactly how to humiliate Veronica by watching her text this new boy informing him that they will not be going out because their mother will be spanking them! Violet is made to watch Veronica's spanking, as mom scolds the eldest sister and uses a hard wooden hairbrush on her bare, sore bottom. The sisters swap places and Veronica watches her younger sister taking the same embarrassing punishment. Violet's bottom turns a dark, shameful red after the hairbrush is used with great force! The girls are reminded about how their sassy behavior will not be tolerated and that there will always be consequences like this punishment by Mom in the future. This film features a stunning debut by Veronica Weston alongside one of our favorite models, Violet October and our special Vegas Mom, Madame Samantha B.
We are proud to present to you our latest new girl at Triple A Spanking (the 1st of at least 2 this month) who we met recently at a spanking party in Las Vegas. Her name is Delta Hauser and she is a lifestyle switch who has been in the scene for a while but had never ever appeared anywhere on film... until now. This is a long introduction video which features plenty of varying spanking styles that she is familiar with, and we gave this beautiful rock chick a plausible role play for her to be punished (for being drunk and letting people down). More importantly is her debut performance... She is spanked over her tight daisy dukes, then her tight black yoga pants for a long time before they are pulled down revealing her bare bottom turning a shameful burning red. Delta gets to experience the wheelbarrow position (trust us, this is a good one) which we are so well known for - before receiving plenty of leather strappings including a double leather strap finale that adds thud to the sting of the 2 straps used. This is an impressive showcase of a new girl we know you all will be seeing a lot more of over the next few months. We have many more films featuring this lovely lady coming soon, but just enjoy this fantastic introduction for now. How could you not? Just look at her!
Witness naughty Luci take her first ever filmed wheelbarrow spanking. This young lady was hesitant at first but willing to try anything once... even though she admitted that this position made her feel very vulnerable and embarrassed to be spread like that, with her parts bared and so exposed! Luci's bottom is given a thorough spanking including the often difficult to reach sit spots that are so easily exposed in this position. As Luci finds out, hitting these parts is rather painful with minimal contact needed. more impact play is used in this potition with a leather paddle that stings and reddens her bottom further. this video also includes some excellent slower motion shots and hides nothing to the imagination. This is an incredibly hot wheelbarrow spanking debut from Miss Luci Lovett!
Adriana has once again shamed herself and embarrassed her mommy (Miss Elizabeth) with the latest panty wetting episode at a family picnic. This is the last straw as far as mommy is concerned... Adriana does not appear to be that sorry and continues to argue her case. However, she is told that since she appears to not look that sorry, she will be spanked then placed into a diaper like a baby girl as she can not be trusted. Adriana protests but she is still given a hard spanking over her replacement dry panties and bare bottom before mommy finishes her punishment with the hairbrush. After being continually scolded, Adriana is told to bring the baby talc powder as she is cleaned and fitted with the diaper. Her humiliation is complete and Adriana hides her face in shame!
Apricot has been sent to the school nurse (Sarah Gregory) as she claims to be feeling very unwell and has asked to go home. However, nurse Gregory is experienced in knowing which girls fake illnesses to get out of school or tests and can feel no feverish temperature that Apricot claims she has. The only way to test this is to take her temperature the old fashioned and most re;iable way, rectally! The desperate girl really wants to get out of school so agrees to undergo this humiliating procedure. Of course she fails and her ruse is mocked with an angry scolding by the nurse as she calls Headmaster to inform him of Apricot's deception. In the second part of this film he scolds Apricot further and informs her that this behavior has consequences with a spanking and leather paddle punishment to be carried out over his knee. Her pristine regulation navy knickers are pulled down revealing the white gusset as her bottom is turned a shameful burning red, first with his hard hands then with the school punishment paddle. Her punishment was complete when she was close to tears, feeling very sorry for herself. The foolish girl is then told to sit in the corner wearing the dreaded Dunce cap to reflect on why telling lies have consequences.
This is a rare chance to see the amazing Molly Malone from a film we had recently discovered, edited and sitting in the Triple A vaults gathering dust. It had hidden for over 5 years so we are really happy to share this with you... finally! It brought back many interesting memories from that cold November day in 2012. It was the last video of the day and we all had a stressful time away from filming which none of us present could ever forget (oh if only we could tell you why but we're sworn to secrecy). In this video, John thought he'd ask Molly a few questions, a sort of end of day "spankumentary" before dishing out a much needed cathartic spanking. No role plays, no stories to tell, just two people enjoying the act of spanking for spanking's sake. Molly is a fantastic switch but if you want one last chance to see her so spankable, bare bottom jiggling under a hard hand spanking, then here's your final chance to see this long lost video today! Molly is so damned hot, how could you not want to see her get spanked?
Luna Lain and Zara Diesel are 2 new hot additions at Triple A. This is a very sexy girlfriend spanking film with real tenderness, love, affection and desire for each other's pert booties! Here at Triple A we love all forms of spanking and impact play between consenting partners. We don't harp on about the spanking must always be harsh or punishment orientated, we have plenty of films like that. We like to consider our films have much more considerable range, unlike some... and this film is genuinely hot. Just look at Luna and Zara (for goodness sake), rarely seen in this context. Watch them make out, undress, spank, grab and massage intimately each other's bare bottoms. "Schwiing!"
Luci has been bailed out by the only family member able to, her Uncle Rob. However, she needs to be in his care and she is far from grateful. She plans to go out and meet her friends, with no remorse or grattitude about her current plight. As Mr Rob is quickly finding out... his niece is one spoiled, mean girl who only cares about herself. It's his house, his rules... and he threatens to rescind the bail conditions unless she receives a good old fashioned spanking for being such a brat! Luci is embarrassed but worse is to come when he stands her up to remove her tight shorts to give her a much needed bare bottom hand spanking! Now she knows he means business but she still isn't learning her lesson so he removes his thick leather belt, lays her on the sofa and straps her until her bottom turns a shameful burning red! This movie has some great facial tearful reactions, close up strapping footage and a bonus slow motion hand spanking scene at the end. This is a great debut from Luci Lovett and Mr Rob who have great uncle/niece chemstry that shows!
If you know Sarah Gregory at all, then you will be aware that she loves nothing better than to brat! Her partner, John, isn't one for this sort of behavior, in fact he makes it known that he can't handle brats that well! So when they decided to do a domestic spanking film, Sarah wanted to test him and see how much bratting she could get away with. To be fair, John puts up with a lot as Sarah does what she does best! In fact she is so adorably cute that even John finds her behavior amusing at times but eventually the fun stops and he slowly gets his way when her bottom reddens beautifully under his hand. Sarah's perfect round cheeks are given a sound hairbrush spanking as she yelps and kicks out in a lot of pain! This is an awesome spanking film with some great interaction between this real life couple!
Warning: This is an intense "Mommy/Daughter" hard hand and hairbrush spanking with a finale only foul mouthed young ladies deserve. Ten Amorette is on the receiving end of a long, tearful and brutal mouthsoaping that she will not forget in a hurry. Mom (played by Miss Anna) takes her daughter over her lap for an overdue spanking with the continual disrespect and poor attitude capped by that filthy mouth of hers. When Ten swears and cusses further, Mommy takes her to the bathroom for another spanking whilst reminding her to take a look in the mirror at herself during the punishment. Ten shows no remorse and swears some more forcing Mommy to take the bar of soap, froth it up and make her daughter taste that awful sudsy, cleansing soap bar deep inside her mouth whilst being scolded. Ten finally learns her lesson after several cleansing sessions, her face and mouth a soapy, shameful mess. She will think twice about swearing in front of her mother in the future!
Fitness and Lifestyle Coach, Lily Swan, has been feeling sorry for herself by eating junk food instead of her usual strict dietary regimen that she teaches others. John catches her putting away more candy when she told him she was working out. He knows how to bring her to her senses. It worked before and it will work again, a good old fashioned spanking. To ensure she learns her lesson this time, he tells her this discipline session will be much more humiliating and painful! Lily is spanked over her tight yoga pants as she squirms and wriggles over his lap before they are pulled down for a far harder and more embarrassing bare bottom hand spanking. Then he makes her hold the chocolate in her mouth, that she was eating previously, during the punishment to add to her embarrassment. However, this is nothing compared to the heavy leather strapping and caning she receives next! Her tight, toned sore bottom burns with shame and the sting of his dragon cane on her buttocks is made even more unbearable when she is caned severely in the Plank position. See Lily Swan in another hot video punishment from our special "Exercise and Discipline" series.
Please welcome another new girl to AAA, Rachel Adams. Rachel is one of those annoying girls that never seems to learn her lesson, unless you have to resort to a more severe punishment solution. Her roommate, Harley, has had to deal with a lot of nonsense over the past few months and has coped with Rachel's shoddy behavior the only way she knows works and that is a good hard spanking. This latest example of leaving their apartment in a real mess after a party really annoys Harley as she had spanked her hard recently for something else. Submissive Rachel knows she is wrong and tears well up in her eyes as she takes her position over her stern roomie's lap. Harley spanks her hard and with conviction on a sobbing Rachel's bare bottom but this time she will get the dreaded hairbrush too! Rachel really hates this punishment and is leg locked to prevent her from kicking and bucking as the hairbrush repeatedly hits it mark! At the end, her bottom is a swollen bruised mess and tears are streaming down her face as a very sorry Rachel promises Harley she will do much better next time.
This is one of a few very rare M/F spanking films featuring Clare Fonda from the network that proudly boasts her name! Clare (aka Jamie Foster) is a well known cougar, preying on younger men and you can catch up with her naughty shenanigans HERE - in this video she has to work for her old friend, John, but is really not office type material. Instead she yearns to get off early to catch the "Happy Hours" at her favorite hunting grounds. Clare takes a wicked spanking from John, who delights in using this chance to give this feisty cougar what she deserves. A long spanking over her pantyhose is followed by a harder man-spanking on her bare bottom before she is given a sound brush punishment with a trusted old friend of hers, the "Mason Pearson" hairbrush. She isn't a fan of sting... and knows exactly what it feels like having used it on so many girls in the past! Great chemistry, great spanking action, great facial reactions and of course Clare's infamous wit makes this a must see film for the Holidays!
Melody Nore just can't help getting herself into trouble. Her father knows all about the latest incident at school and is sick of hearing her excuses. From now on she gets double punishments and he has nothing to say to her. This is even worse for Melody, trying to apologize and say how sorry she is, as he doesn't want to discuss anything further with her. Instead, she gets one heck of a hand spanking over his lap. This is one of the hardest hand spankings Melody receives as she is first spanked over her tight jeans, then her colorful panties before the embarrassing, bare bottom smacking by her daddy over his lap. He is far from fiinished as there are 2 leather implements on the sofa, a heavy paddle and the Reformatory Strap. He uses the paddle whilst she is still across his lap then the final part is a full force, no holds barred, strapping which has her crying out in real pain! Saying "Sorry" just isn't good enough this time, and Melody learns this the hard way!
Sarah's out of control shopping habits have got too much for her girlfriend, Apricot, who discovers that she is still buying more stuff when she promised that she would curb her spending. She used coupons for a special offer by using Apricot's email account and printing them off, only she forgot that the emails also went directly to Apricot's cell phone! Sarah gets a spanking over her panties for this before Apricot pulls them down for a harder hand smacking followed by a stinging leather paddle.
Working in a hospital style care home, nurses like young Amber West should know better when it comes to wearing revealing and scantilly clad clothing. Improper uniform attire has had the blood pressure of the older gentlemen shooting through the roof. The resident Doctor summons her to his office, annoyed at the extra work she is causing with her obvious uniform distractions. He sees for himself just how inappropriately she is "dressed" and scolds her, reminding the ditzy nurse that this sort of behavior is far from acceptable. The Doc shows how he deals with the nursing staff and she remembers this all too well. He gives her a spanking across his lap, and can see that her panties are easily on full display. They are quickly removed so that he can continue to spank her bare bottom and you will see her cheeks turn red with shame and embarrassment. Amber learns that she must think about what she wears to work in future, and that means the correct uniform. Rules are made for a good reason and the consquences for breaking them are made obvious to her. No more skimpy uniform attire!